This will sell out tonight!
Only available TODAY only! Teefury: Limited Edition $11 tees! are t-shirts that are limited to that day, if you wait to long, it will be gone the next day. Even more exciting they have added larger sizes, you can get a 2XL for a $1 more, and a 3XL for $2 more. They have also added more color choices for different T-shirts on different days. Today's design is from an artist who affectionately calls it "River Speaks the Future" , a tribute to a show I truly miss, Firefly.  They made the movie Serenity where some questions were answered, but it was taken from us way before its time.  I love this T-Shirt! I bought mine!  The t-shirts start at $11, and come in varying sizes for men and women! So don't miss out. Head on over to TeeFury.com today and pick up one! As always thanks for stopping by! and have a great day!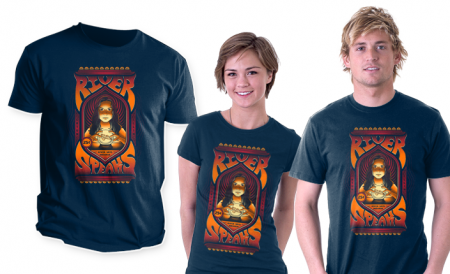 Disclosure of Material Connection: Some of the links in the post above are "affiliate links." This means if you click on the link and purchase the item, I will receive an affiliate commission. Regardless, I only recommend products or services I use personally and believe will add value to my readers. I am disclosing this in accordance with the Federal Trade Commission's 16 CFR, Part 255: "Guides Concerning the Use of Endorsements and Testimonials in Advertising."
Please follow and like us: