I try to find cards that are stunning, spectacular, and inspire me to want to share, these are often cards being sold by someone other than the original artist, but it is the Artist I am trying to "showcase" to show you the talent they have, and to hope that you might want to seek them out, to maybe do a commission, or get art from them directly if they have their own site.
Today we are featuring a sketch/art card from an amazing artist: Anthony Douglas (Superman with US Flag), I truly do enjoy their work , and hope you will too. I currently do not own any pieces of theirs but so want to own some one day! 🙂 , and hope you will find reason to own some too! You can find this listed on eBay right now. Thanks for looking.
One of my favorite hobbies is collecting Art/Sketch Cards, also known as ACEO cards in some searches. What is nice about them is that they are the size of baseball cards, so it makes them very collectible, there are artists all over the world that create these. Ways you can find them are through trading card sets, at hobby shows, on eBay where this card is from, or directly from the Artists on their websites. The one featured is from eBay, and you can find it by clicking here. My personal collection is always growing and while I may not be able to add this one to it, I plan to feature more cards here on my site both this way, and some of my own collection in addition to all the great giveaways and other stories coming soon. If you are an artist and or collector and would like to be featured here on the site, get a hold of me, and I would love to talk to you! As always, thanks for being here, and remember to have a great day! Tom.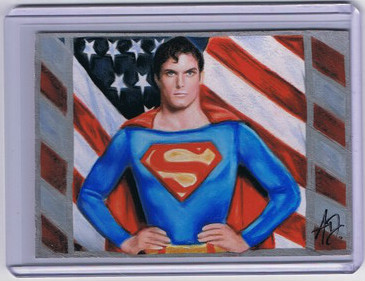 Are you an Artist or Collector, want to talk to me about being part of this site? Contact me below!
#aceo @aceo #sketch @sketch #art @art #sketchcard @sketchcard
Please follow and like us: