Happy early July 4th!  As we celebrate our nations independence, with family getting together for outdoor parties, barbecues, going to see professional fireworks shows, and using store bought or fireworks store bought boomers, please keep safety in mind in everything you do!  
Outdoor Temperature:
Keep in mind that when its hot, we can easily become dehydrated, and possibly suffer anything from heat exhaustion on up to heat stroke.  Alcohol intensifies this effect, as it begins to dehydrate us the more we drink, taking the place of water, and having to use the bathroom a lot will increase the chance that you become dehydrated quickly, and can start to succumb to the heat even quicker.  So if it is hot out, please keep this in mind, drink plenty of fluids, so that you keep your body from overheating.  Good sunscreen is important too if you are going to be exposed to the sun for long periods of time.  So give yourself plenty of breaks to drink water, find shade if you can, so you don't get to a point where it takes an ambulance ride to a hospital to get your fixed.
Now on to the children, they are smaller, and more in danger of becoming dehydrated much quicker than adults, making sure they have sunscreen, plenty of fluids, and intermittent periods of shade is essential.   And lets not forget your pets, they need fluids too on hot days so make sure you can take care of their needs as well.  While all these apply to any hot day, sometimes we get caught up in the holiday, so keep this in mind!
Safety:
No blown off hands, fingers, body parts, or anything this year, what do we say?  As a Paramedic I have seen too many of those.  So we get all excited playing with fireworks, we love the colors, the sounds, the excitement, but lets keep it safe.  Now one thing that has been around even since even I was a kid, and as common to get a hold of as you can is the Sparkler…yes they are pretty, yes they are awesome to see move around in the air, but keep in mind they also burn as hot as 1800°F to 3000°F so safety is paramount especially around children.  Please don't let them run with them, as they could fall on them or fall into other kids or people.  Also fireworks and sparklers don't mix well with alcohol,  being as hot as a sparkler burns, could you imagine it around liquor?  Not a good combo.
I want everyone to have a fun and safe holiday, whether you are with family or friends, think about what you are doing, all those around you, and how that may affect you, but please do have a fun and festive filled holiday, from my wife and me, and A Medic's World, Happy July 4th to all!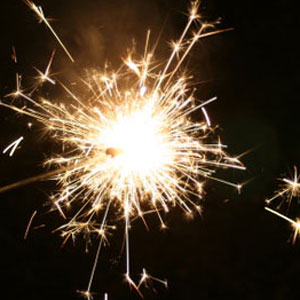 So what are your plans for the holiday?  Family, Friends? Any special traditions?  Would love to hear them!  Share with me below!  Tom.
#safety #holiday #july4th #sparkler #fireworks #independence
Please follow and like us: