So excited, so awesome, I can't contain enough words to describe how fantastic it was to get to review this item.  I was given a chance to do this review by the wonderful folks over at 80sTees.com
Now, here is a chance to let your geek out.  This store has about anything you can think of when it comes to 80's TV Shows, Movies, Music, Cartoons, Superhero's and more!
This Deluxe Version of the Voltron Hoodie is simply amazing.  Just the amount of detail put into it, and craftsmanship to get it right.  They hit it on the nose with this design, and any true Voltron fan is going to want to own this!  Voltron:  Defender of the Universe was a cartoon show that featured 5 individual robot lions, their colors were red, green, yellow, blue and black.  In times of peril, they could form together to create Voltron.  During the sequence, the captain of the Black Lion, would always say "and I will form the head".  I loved watching it as a kid, and the honor to own something like this and display the geek I am, I stand proud! 🙂
Description from 80's Tees
Have you ever wondered what it would feel like to wear "Awesome"? Now you can experience it for yourself with this Deluxe Voltron Costume hoodie! This is a high quality piece of apparel that has taken a long time to get just right. The zip-front garment is composed of different colored fabrics to match that of the red and green Lions, along with appliqued and screen printed accents. The sleeves feature 3-dimensional red and green lion heads that you can slip your wrists through, with rib knit cuffs inside for added comfort and ease of wear. The foam-lined shaped hood features a detachable snap-in jaw to make this wearable as hoodie as well as a costume. Voltron's head has detail to rival any Voltron action figure. This is a must-have wearable collectors item for any Voltron fan!
I am including some pictures of me wearing it below. It comes in sizes from S – 5XL.
You can order your own Deluxe Voltron Costume Hoodie here at 80sTees.com, it is priced for the those who realize the cost behind producing something like this, but you can grab yours for $160 here.  They also have their standard Voltron Hoodie pictured below for $75 and that is also available in sizes from S – 5XL.
This is not me below by the way! 🙂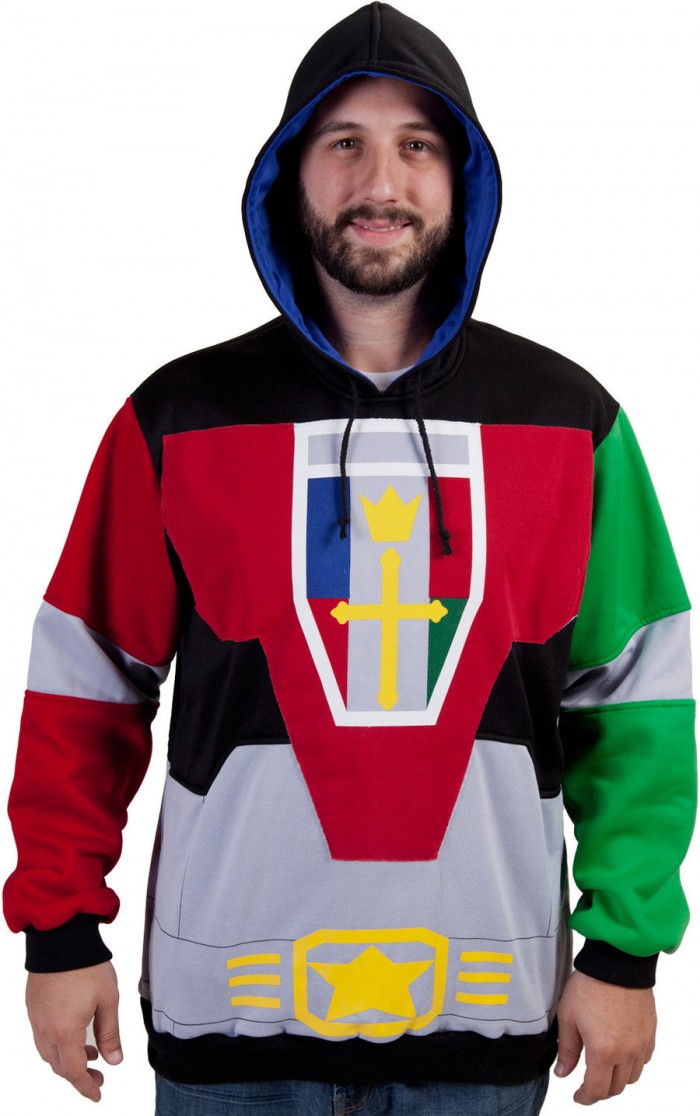 You can also check them out on Facebook, as well as their website here—> 80'sTees.com
#Voltron #Cartoon #costume #hoodie #kids #adults
Disclosure of Material Connection: I received one or more of the products or services mentioned above for free in the hope that I would mention it on my blog. Regardless, I only recommend products or services I use personally and believe will be good for my readers. I am disclosing this in accordance with the Federal Trade Commission's 16 CFR, Part 255: "Guides Concerning the Use of Endorsements and Testimonials in Advertising."
Please follow and like us: