Disclosure of Material Connection: I received one or more of the products or services mentioned above for free in the hope that I would mention it on my blog. Regardless, I only recommend products or services I use personally and believe will be good for my readers. I am disclosing this in accordance with the Federal Trade Commission's 16 CFR, Part 255: "Guides Concerning the Use of Endorsements and Testimonials in Advertising."
eQUICK™ Phone Portable USB Solar Battery Charger
I really enjoy reviewing alternative power solutions to keep our modern devices going.  I had the opportunity to review the eQUICKTM Phone Portable USB Solar Battery Charger from eHarvestSensors, I thought to myself, using the power of the sun to charge your devices is one of the best things you can do for yourself, and our Planet.
Harnessing natural resources like wind, geo-thermal, and solar energy, will be essential for the continued way we get power in the future.  Things like coal, wood, and oil might not be around much longer if we continue to use them without having a back-up plan for generations ahead of ours.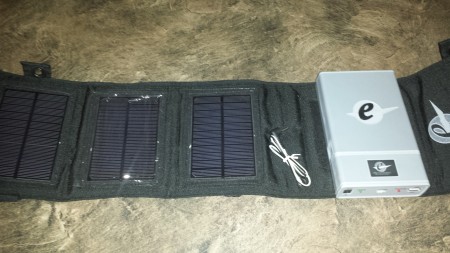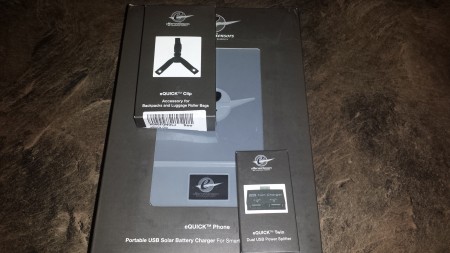 The kit I received to review included the 3-Solar Panels, the lithium battery pack, (4) clips, and a splitter that allows you to charge two devices at once.  This particular kit allows you to be able to lay the solar panels out on the ground, on a table, or clip it to your book bag or your back pack while you are hiking.
Now depending on where you live and where you are using this at, getting the most out of your solar panels will vary.  Having them in the right position and angle makes a difference to the total charging time, and how quickly you will be able to use the lithium battery pack to recharge your devices.   Once the battery pack was charged, attaching the splitter was easy enough.
Technical Specifications:
Model 1000

10W-hr Rechargeable Lithium Ion Battery Pack (BP-1000)

Safe High Temperature Operation: -4°F to 140°F (-20 to 60°C )

Battery Life Cycles: 2000

Solar Input: 5.4W from 3 small highly efficient mono crystalline solar panels

USB DC output: 5V at 2.0A

Dimensions: Closed 6.8″ x 5.3″ (17.3 x 13.5 cm)

Opened (compact) 6.8″ x 14.5″ (17.3 x 37.8 cm)

Weight: 1.44 LBS (653 g) with BP-1000
Examples of USB chargeable devices that can be charged with the eQUICKTM Phone Portable USB Solar Battery Charger are:
   ➢ All cell phones, smartphones and tablets
   ➢ Wireless Bluetooth speakers
   ➢ Video and Digital Still Cameras
   ➢ MP3 Players
   ➢ Portable Gaming devices
   ➢ GPS and Satellite Communication devices
   ➢ Flashlights and USB Light Sticks and more
As you can see, having something like this to take on the go is an easy way to make sure you have emergency power for your phone, tablet, or GPS device when the time arises.  Don't forget you can also use this in your back yard on your patio/deck, or going to the park too!  If you carry a small backpack while cycling or walking attaching this to the back of the bag, will allow you to power your audio or MP3 player on the go.
I was able to connect my Samsung Galaxy S4 Android phone to it while it was charging the solar panels without a problem, so while it was charging the battery pack, it was also charging my phone, a very nice feature! It may seem a little bulky for some, but if you truly want to harness the power of the sun, I think it is worth the extra 1 1/2 pounds of weight to be ready for anything, anywhere.
So where can you find more information about this device and the company?, be sure to check out their main website, and they are also on Kickstarter, Facebook, and Twitter.  Where can you buy it for yourself?  You can grab it on amazon here.  They have different packages, and you can buy additional battery storage packs as well.
Please follow and like us: