I really love opportunities when I get to review innovative products that can serve a purpose in many situations.  I was given a Sunrocket for the purpose of this review.  So what is the Sunrocket?  Well, it is a thermos that has the ability to heat water for you.  It is designed to be used in many environments, including year round weather, and you can even set it up in the snow as long as the sun is shining.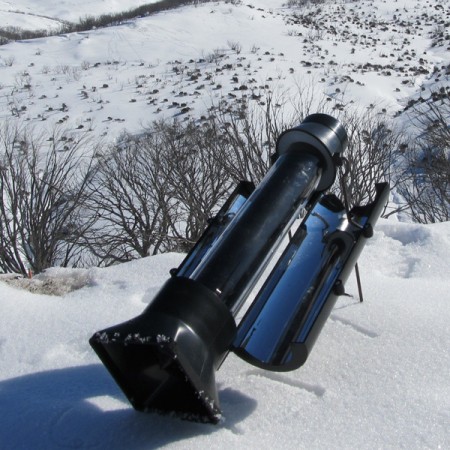 This thermos is well designed, and well made.  When I took it out of the box you can truly feel the quality put into the product.  As it's name implies, it does look like a rocket.  So what do you do?  You fill the thermos up with water, open the reflective solar panels that capture and transfer heat, and depending on your conditions, you can have hot water in as little as 30 minutes.  Just like a thermos that you have used before, it will keep the heat for hours after it is closed as well.  The Sunrocket has a sturdy base, and the stand not only stabilizes it, but helps secure the solar panels in an open position.
So what can you use it for?  Let me give you some ideas:
Hiking – at only 2.2 pounds it won't be too heavy to include in your bag, as long as you have a source of Sun, you will be able to use it.
Camping – imagine heating up water to rehydrate food, or to make hot chocolate or coffee, maybe there is a creek nearby and by heating the water this way it should make it safer to drink.
Emergency Preparedness, maybe to have potable water this might be the only way to make it safer, you can also rehydrate food rations in a time of emergency.  Perfect for anyone who wants to be ready, would make a great gift idea as well.
It holds up to 17oz. (500ml) of water, that can be used for everything I shared above, but maybe to also wash up and get clean too.  So if you want to harness the power of the sun, and not depend on a fire all the time, then this is for you.  Where can you get one?  You can grab it direct from Sunrocket's website for $59.50, and they also have a special on their website when you buy 2 of them. So definitely check them out, you can find them on Twitter, and Facebook as well.
Please follow and like us: