Disclosure of Material Connection: I received one or more of the products or services mentioned above for free in the hope that I would mention it on my blog. Regardless, I only recommend products or services I use personally and believe will be good for my readers. I am disclosing this in accordance with the Federal Trade Commission's 16 CFR, Part 255: "Guides Concerning the Use of Endorsements and Testimonials in Advertising."
For years now, since owning my iPad 2, I wished for a great Railroad Simulation Game to come out on the iOS platform. Somehow I missed the first incarnation of Trainz for the iPad, but came across this version while searching for new games. Trainz Simulator 2 designed by NV3 Games takes on a niche that needed a great deal of help.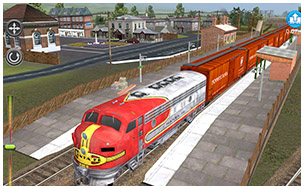 So every expansive game has a learning curve, and this game is no different, however it has a very good tutorial system to get you through the mechanics of enjoying the game. The tutorial is broken down into individual episodes that begin to teach you the basics of moving the train, gaining speed, watching your speed limit, learning how to stop properly and on time, and so forth. As I was working my way through it, I found my confidence building, that the next lesson would give me the ability to enjoy the simulation even more once I was done with them all.
Let's touch on the graphics now. All I can say is Wow! I honestly couldn't believe the detail that they pulled off, to make it look that good, even on my iPad 2. From the trains themselves, to the scenery, and the buildings like houses and train stations, it is crisp and colorful to make the simulation even that much more enjoyable. You can check out the video below showing off just how good this game looks:
So what are some of the features that make this stand out? Here are just a few!
Multiplayer – operate a real railroad with other players from around the world! (I haven't tried this yet, but excited to find out how it works)
Improved Drive Controls
Increased Draw Distance (whether you are looking out of the engine, or in front of it, or another camera angle, be sure to see a great deal of scenery while doing it)
Upgraded Graphics
Operate a complete working rail line
Something else I am looking forward to trying is the "Surveyor" tool, what does it do? It allows you to create your own routes! While there are in app purchases for pre-made engines and routes, the pleasure of designing your own rail line, and routes is an awesome feature!
Here are some screenshots direct from my iPad 2 as I was playing the game:
In addition to their website
here
, you can find them on
Facebook
and
Twitter
as well. Check them out.
Pros:
Easy to use Tutorial, Great Graphics, Multi-Player, able to design your own routes, it works on my iPad 2!
Cons:
Honestly at this point, I can't find any! If that changes, I will surely update my review.
I really think it is a good buy at $7.99, you get a lot of game for that price, and the ability to create your own routes makes it re-playable, something you don't see a lot of in games now and days. I am giving it 5 out of 5 stars, and you can grab yours here—> Trainz Simulator 2 or click the button below!
Please follow and like us: