Growing up, watching Looney Tunes classics such as Bugs Bunny, Daffy Duck, Porky Pig and all the others was part of my childhood.  I don't think there was a time that I wasn't saying "What's Up Doc?" in some part of my life.  Those iconic images and phrases stick with us as we grow up.
With the release of the 3rd volume, the Looney Tunes Platinum Collection Volume 3, just adds to the number of classic shorts and features that have been remastered to enjoy the benefits of Blu-Ray technology.   I was given a copy for the purposes of this review.  To me, I think all families should introduce their children to some of these amazing classics, while cartoons of today are definitely geared towards gaining their attention, having them see some of these originals may have them see the same love we share for them as adults now.  Also as adults you can't go wrong with having these all on one collection to view at any time!
So what are some of my favorites from this collection?
Hiawatha's Rabbit Hunt

High Diving Hare

A Gruesome Twosome

High Note

Hillbilly Hare
See  over 50 shorts, commentaries, and features like:
Bugs Bunny: Ain't He a Stinker? An affectionate look back at the history of the world's most famous wise-guy carrot chewer. This feature reviews the complete career of Bugs Bunny, his friends, his foes, his work during the war, his musical talents, and his most famous scenes. It also provides an overview of Bugs' creators – the directors and voice (Mel Blanc) who brought him to life – with Chuck Jones and Friz Freleng offering comments in rare interview footage.
Daffy Duck: Ridicule Is the Burden of GeniusA duck-lovers feast! A compilation of Daffy's greatest moments, with running commentary by animation historian Keith Scott, tracing the fowl's full-length filmography, as well as background information on his crazy creators, his despicable foes and his long lasting influence in Hollywood! Woo-hoo-hoo-hoo!
Mel Blanc: The Man of a Thousand VoicesThis is a feature length documentary about the life and times of voice man extraordinaire Mel Blanc – the man who originated the vocal characterizations for the majority of the Looney Tunes characters. Noel Blanc and Mel Blanc himself (in archive interviews) recall how many of the famous voices were concocted. His work with Capitol Records, on The Jack Benny Program and later voicing Hanna-Barbera characters are all showcased. Admirers and historians Kirk Douglas, Terry Gilliam, Bob Kurtz, Will Friedwald, and Martha Sigall join voice actors June Foray, Stan Freberg, Janet Waldo, Billy West, Gary Owens, Tom Kenny, Hank Azaria, Bob Bergen, and Keith Scott in paying tribute to this legendary performer.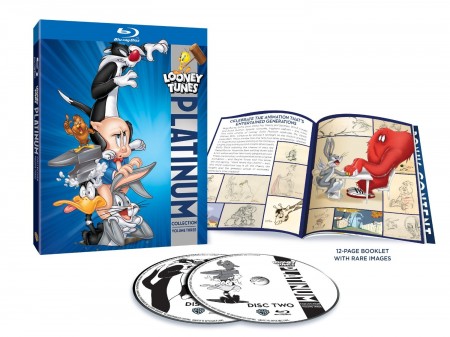 Also in the box is a 12-page booklet with rare images compiled by animation historian Jerry Beck, a colorful look into some of the classic of images, as part of the Looney Tunes History.
It's out now, so no need to wait or have to pre-order it.  Where can you grab yours, grab your own version over at Amazon, and get it for $34.49 that is $10.49 off actual cost.  Would make a great addition to your collection, a fantastic gift idea, and with my ultimate love of it, a well recommended gift!
Please follow and like us: