When the Animaniacs came out in the mid to late 90's, I really don't think everyone was ready yet for the zaniness that would ensue.   It even caused me to step back and say "now this is something unique and different".   I think animation needed something fresh, and this is exactly what the Animaniacs did, it delivered just that, freshness.  If you have never seen an episode of the Animaniacs, definitely check yourself, and make sure you are on the right planet.  I can't say how many countless laughs I received while watching this show.  From the three original characters of Yakko, Wakko, and Dot, to Pinky and the Brain,  Dr. Otto Scratchansniff and Hello Nurse plus all the other characters, they never ran out of material to make funny.
Wakko's Wish which will be available on DVD for the very first time on October 7th, 2014 is a feature-length animated adventure, it's a musical and magical mayhem of a wintery tale that includes 15 original songs.  With things not so happy in the village, and Dot needing medical attention, Wakko wishes upon a star.  His wish will be granted, but he has to find the fallen star to touch it, for it to come true.  Not so easy of a task, as Pinky and the Brain, Mindy and Buttons, and many more try to scramble to find it first!
If you have never given yourself the pleasure of owning a fun-filled, wacky, and all around feel good animated story.  Get this one.  I have personally seen this several times myself, and can say each time it is just as funny, if not funnier as even I miss stuff the first time,  with each time I watch it.
Grab yours here, and share it with your family and friends.  Especially if they have never had the pleasure or excitement of watching the Animaniacs before.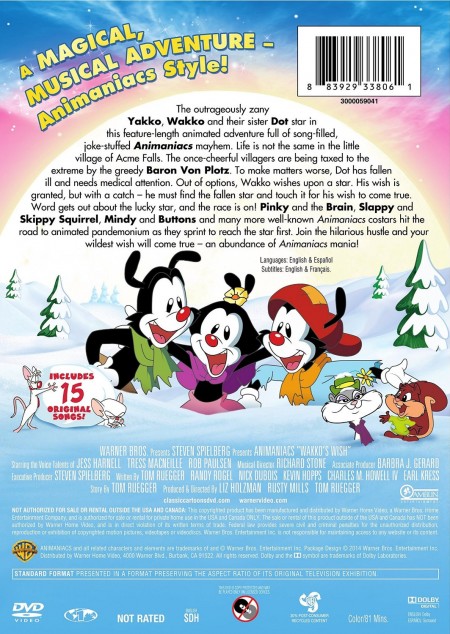 Disclosure of Material Connection: I received one or more of the products or services mentioned above for free in the hope that I would mention it on my blog. Regardless, I only recommend products or services I use personally and believe will be good for my readers. I am disclosing this in accordance with the Federal Trade Commission's 16 CFR, Part 255: "Guides Concerning the Use of Endorsements and Testimonials in Advertising."
Please follow and like us: