It is a given that not only I, but my wife Michelle, both like board games.  In fact, most of her family enjoy board games all the time, and its something we do around the holidays, or just on "game nights" when we can have them.  Now bring in the fact that you are given a brand like "Firefly" and my geek flag just went to the top of the pole!
I have always been a huge fan of "Firefly" and it was definitely sad when Fox pulled it from the air.  It was a show before its time and one that deserved so much more airtime that it received.  With a huge secondary fan base that it has, it is no wonder that USAopoly created both a version of "Clue" and "Yahtzee" based on the cult TV Show.
Firefly Clue:
Playing with rules much like the original game of Clue begins with, it just takes a slight twist with the story line as you and others try to find out which member is working with the alliance, who betrayed River, and where on the Serenity Ship the kidnapping took place.  With all the iconic characters from the show in the game, could it have been Inara, or maybe Mal? was it in the passenger dorm, or the engine room? and what item? maybe Doc's Med Kit, or the leather necklace? It is up to you to find out.  Can you solve it? Can you save River?
There are 9 collectible metal tokens representing the items used to betray River: Six Shooter, Leather Necklace, Vera, Dinosaur, Wrench, Teapot, Torn Book, Med Kit, and the Hands of Blue.  Along with 9 custom made board locations: Bridge, Cargo Bay, Engine Room, Kitchen, Sick Bay, Passenger Dorm, Mal's Room, Jayne's Bunk, and Inara's Shuttle.  You can play either Inara, Jayne, Mal, Wash, Zoe,  or Kaylee.  So you can see, the game has a multitude of re-playability, and appeal for years of fun games with Family and Friends, and again it is based on "Firefly" what else could you ask for.  Would make a great addition to your collection, a great gift idea for someone who loves this show, or just a great game in general for those who love "clue" like board games! Grab yours here today for $39.99, or get it as a gift for the Holidays coming up.
Firefly Collector's Edition of YAHTZEE:
Okay, of the two "Firefly" themed products that USAopoly did, I am favoring this one the most, why?  Look at it!  It is a replica of the "Serenity" Ship, and it is worthy of not only being played as Yahtzee, but being displayed for the beauty it holds.  While I love to play Yahtzee, I think I love this more for its display value.  What do you think?
The ship comes apart in the middle, and allows you to use the one side of the ship as the cup to shake the dice.  Just one word of caution, be careful how you grab it, the last think you want to do is break the landing stands from the ship, that would be horrible.  The orange dice have Chinese Script on them, much of what the Firefly Universe would have.  Enjoy some of the pictures I shared below.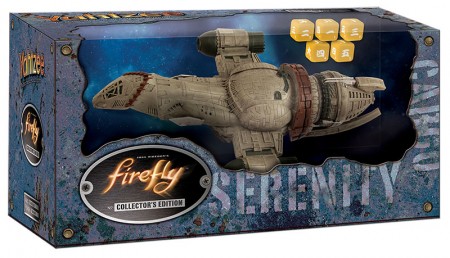 Personally I think anyone who loves Firefly and the Serenity Ship should own this just for the collectible nature of it, being that it's a Yahtzee game is just an added bonus, again this would make an excellent gift for yourself, that geek who loves all things Sci-fi, or that special someone you just want to surprise, grab yours here for only $49.99
Disclosure of Material Connection: I received one or more of the products or services mentioned above for free in the hope that I would mention it on my blog. Regardless, I only recommend products or services I use personally and believe will be good for my readers. I am disclosing this in accordance with the Federal Trade Commission's 16 CFR, Part 255: "Guides Concerning the Use of Endorsements and Testimonials in Advertising."
Please follow and like us: