First Responder Trauma Bag
$69.99
Fits the Needs of Emergency Response Personnel
9.8/10
Pros
Well Made Design
Good Amount of Storage Options
Good Sized Bag for Essential Medical Supplies for Most Emergencies
Perfect for First Responders, Or Those EMT's/Paramedics That Want Their Own Bag In Their Vehicle
Made By Fieldtex
Cons
Shoulder Strap is Not Removable
I had a chance to have a hands on look at the First Responder Trauma Bag made by Fieldtex and brought to you by Chief Supply.  I was given one of these for the purpose of this review, and the following information shared is my opinion.  I would never recommend or promote anything I didn't believe in, and if there is something that I found wrong or missing, I will be one of the first to tell you.
I have been in the emergency medical field for 23+ years, and while I am not actively on a squad, I do carry what was a small jump kit, prior to reviewing this bag.  Now my First Responder Bag looks something a little more professional, and easier to spot if I would ask for someone to go grab it for me.
I think as a first responder, whether you are at that level or training, or a full-fledged paramedic, it doesn't matter if we are on duty or not, our basic goal is to help people.   Even if you can't completely solve the crisis at hand, just being there as a guide, or offering your assistance until additional resources arrive can be all the situation needs.  Beyond that though, wouldn't it be nice to have a basic set of supplies at your disposal if you were to need them?  With this First Responder Bag, you can help keep them organized and secure until the backup arrives.
So what can you expect feature-wise with a 1st responder bag like this?  Check them out below.
1000D Cordura Construction
Strong Nylon Web Handle
2″ Wide Adjustable Shoulder Strap (non-removable)
Flap Lid with 2″ Plastic Quick Release Buckles
3″ Reflective Star of Life Emblem on Flap
Lid Features Tacked Elastic Tool Holders Over a Zippered Inside Pocket
Padded Main Compartment with Three Dividers (non-removable) with Row of Tacked Elastic Loops Across Back
Two Zippered Wing Side Pockets
Divided Full Front Pocket with Hook and Loop Closure and Additional Tacked Elastic Holders
Dimensions 16″L x 8.75″H x 5.75″D
[bctt tweet="One of the first things I enjoyed seeing was the Zippered Inside Pocket on the inside of the lid of the bag."] This would be perfect for extra sets of gloves, face-shield protectors, or what you find to make your organization the easiest.  You can truly tell the bag was well made by how durable the material is, and all the stitching around the bag seems resistant to the weight you are going to add to this bag, and the places you will be setting it down and using it as well.  Another item this bag features is the amount of elastic tool holders, great for Trauma Shears, Basic Oral Airways, mini Flashlights as well as what ever else you can think of.
The bag is easy to spot, and if you were to ask someone to grab it for you, I am sure they would have no problem recognizing the bag that you requested.  Having the additional room in the bag for Airway Supplies, Gauze Pads, Bottles of Sterile Water or Saline, Slings, Trauma Pads, and more will give you the peace of mind that you will have close to everything you need next time there is an emergency, and you are called to action to help save the day.
So were there any flaws with the first responder bag in this review?  Not anything of a critical nature, maybe just a few things I would like to see a little different.   First off, the shoulder strap is non-removable.  While it can be placed underneath the top flap while it is being carried by the handle on top, you will not be able to remove it at all.  Secondly, and again, just something I would have liked to see, is that the 3 dividers in the main part of the bag are non-removable and unable to be moved into different positions.  While most first responder bags will never carry the capacity of supplies that a jump bag or trauma bag would have in them, being able to customize it yourself would have been nice.  Again, does not hurt the quality of the bag, but trying to point out things from both sides of what people like in a bag they may carry.
Overall impression?  Definitely something that any volunteer first responder/EMT or firefighter might want or need, or in the case of Active Duty personnel, a bag that they can carry in their vehicle that would allow them to have basic supplies for a situation, even if they are off-duty.
So don't forget to check out Chief Supply on the Web, Facebook and Twitter today!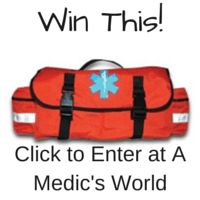 So do you have a First Responder Bag in your vehicle?  What kind of things do you keep in it, to keep it stocked?  Would you use this in your off duty time if you needed to?
Disclosure of Material Connection: I received one or more of the products or services mentioned above for free in the hope that I would mention it on my blog. Regardless, I only recommend products or services I use personally and believe will be good for my readers. I am disclosing this in accordance with the Federal Trade Commission's 16 CFR, Part 255: "Guides Concerning the Use of Endorsements and Testimonials in Advertising."
Please follow and like us: