Disclosure of Material Connection: This is a "sponsored post." The company who sponsored it compensated me via a cash payment, gift, or something else of value to write it. Regardless, I only recommend products or services I use personally and believe will be good for my readers. I am disclosing this in accordance with the Federal Trade Commission's 16 CFR, Part 255: "Guides Concerning the Use of Endorsements and Testimonials in Advertising."
For those who don't want to worry about connecting via Bluetooth to take a selfie, you can now use the famous Selfie Stick that has been known around the United States, by connecting it via the headphone jack on your device. The Selfie on a Stick Wired would make an excellent gift idea as well.
This opens the door to more people being able to take the perfect picture, or group photo, without the need to make sure it's connected via Bluetooth first.  This might allow those who are not as acclimated to technology like children and older adults the opportunity to take the same types of photo's as everyone else, but without the need of making sure all the settings are configured correctly, or needing a family member to make sure everything is setup the right way.
Celebrities including Steve Harvey, Kendall Jenner, Gigi Hadid, and Miss America have all used and love Selfie On A Stick products.  While I am not a celebrity, I too, can attest to how awesome it is to be able to take a quality picture of myself, or with my wife, or the family, and get the right picture, with the right background, and have it come out stunning.  As a blogger, getting the right picture can make or break an article.
What does it work with? Works with most hand held devices including: iOS devices (iPhone, iPod, iTouch & More), Android devices (Samsung Galaxy & more), Digital Cameras, and Go Pros.
Easy to use!
Place your iOS or Android smartphone into the spring loaded clamp, plug the wire into the headphone jack of your phone and open your camera application

Extend your Selfie on A Stick Wired

Smile and press the button on your Selfie on A Stick Wired to snap your selfies and selfWEs!
Check out some of the colors you can get your Selfie Stick in to match your personality and style.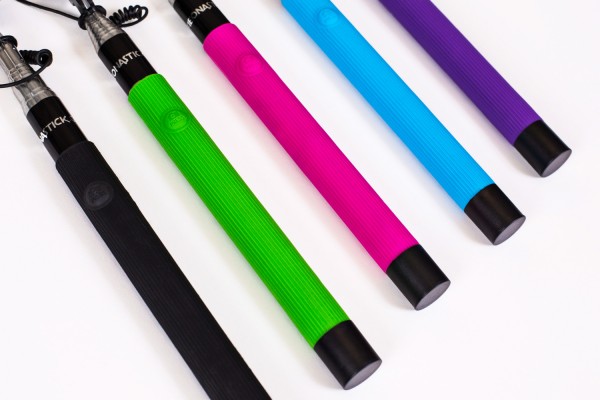 Selfie On A Stick Wired extends from 9.25″ (23.5cm) to 42.5″ (108cm)
Removable clamp adjusts from 2.2″ to 3.4″  – Perfect for most iOS and Android smartphones
So whether you want to be wired, or wireless, check out SelfieonaStick.com today, and find the right one for you, or to get as a gift idea for that someone who would love this on their next adventure.
Please follow and like us: