Disclosure of Material Connection: I received one or more of the products or services mentioned above for free in the hope that I would mention it on my blog. Regardless, I only recommend products or services I use personally and believe will be good for my readers. I am disclosing this in accordance with the Federal Trade Commission's 16 CFR, Part 255: "Guides Concerning the Use of Endorsements and Testimonials in Advertising."
Over my years of working and in life, I have used different types of communications along the way.  From writing letters, to passing someone a note in school, sending a number or short text on a pager (remember those?), using Morse Code in the Army, using Secure Communications Equipment in the Army, sending texts on the phone, chatting in chat rooms, communicating in social media like Facebook and Twitter,  the conventional phone, and now the cell phone that we all use today.  So do you need a satellite phone?  Let's find out.
I was given an opportunity to review the GSP-1700 Satellite Phone from Globstar.  Like cell phones, satellite phones have coverage areas as well.  The first thing to understand is that while a satellite phone might work where traditional cell phone service will not, because of the satellites that orbit the earth, depending on where you are, and when (the time zone), and the type of service plan you choose like voice/data, or prepaid,  service might not be available as well.  For the most part, satellite phones are meant to be used where regular cell service might not be available or when cell service is completely down.
Reason 1:  Traveling abroad to Foreign Countries (and the United States)
Do you travel extensively due to work or for leisure? if you do for work, maybe your company already provides you with a satellite phone in case of an emergency.  If not, or if you travel for leisure, then yes, looking into a Satellite phone might be the answer for you.  [bctt tweet="Remember, not all countries have coverage maps for cell phones like the United States does."] If you are the type that likes to do a lot of hiking, or trails, or you are maybe a medical provider in an area of the world where it would be hard to call for help, then having something like this in an emergency, would be a good thing.
There are areas in the United States that are notorious for not having good Cell Phone coverage.  I learned this well when my wife and I did a road trip from Ohio to Nevada.  There were times we could barely get a bar, or even 3G on a 4G phone.  If you are destined to be in areas that have poor coverage, then a Satellite Phone like the GSP-1700 might be for you.
Reason 2:  Emergency Services might need to use them if Cell Service was not available
I was a career Paramedic for 24 years, and we had portable radios, radios in our Squad, even a Phone in the back to call the hospital when I worked at Cleveland EMS.  What if all of this went down?  What if the network collapsed and there was no way to talk to each other, or to services that would be needed in an emergency.  A satellite phone might help in those cases since it doesn't base its connection on Land like with Cell Towers, but from Satellites in space.
Reason 3:  Emergency Preparedness and Peace of Mind
I like to be prepared for almost anything.  Sometimes an individual who is into Emergency Preparedness might want a device like this in their collection as well.  If we did have a catastrophic event here on Earth, or if there was a major tidal wave, or storm that was to take out communications, what would we use?  Satellite Phones would be needed as long as the satellites were still up in the sky, but for the most part, aside from traditional means of communication like writing a letter, and maybe short wave, what would you use?
---
So what about phones like the GSP-1700 from Globalstar?  Well, I put the battery in, extended the antenna and placed a call.  Where? I called Home.  Where from, about 20 miles away.  I don't have any extended trips planned so I couldn't call any farther away yet.  What happened? It shows you on the screen, searching for service, once it has that service, I placed the call.  My wife was able to hear me clearly even outside with traffic roaring away.  I was also able to hear her as clear as I would if I was on a cell phone.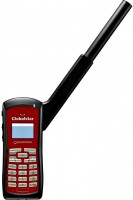 Depending on where you are going whether it be here or half way around the world, if it is in a coverage area, then having something like this would be a wonderful way to make sure you were ready in an emergency, or just wanted to make a quick "I love you" call to someone you miss.
Satellite Phone rate plans vary on what you want to do with it, where you want to use it, and if you are going to do a traditional rate plan, or pay as you go.  Here is where a Satellite Phone can get expensive especially if you plan to use it for data like surfing the web, or reading and answering emails.  My overall impression?  If you like to be ready for anything that might happen in life, think about getting a SAT Phone, or if you are someone who plans to do a lot of World Traveling, consider one as well.  You can visit Globalstar to buy your own, or grab one from Amazon here today.
Also for those who are looking for a SAT Phone and you might not be able to win this one, you can get a free SAT Phone with certain rate plans through Globalstar, be sure to visit them today for details.
I am giving one of these away here on A Medic's World, be sure to check out the Saved by my SAT Phone Giveaway, and enter today, ends 7/31.
Please follow and like us: