Tom here at A Medic's World, and I wanted to take time and start featuring more websites that I think are worthy of being promoted.  Today I want to bring you a website called "Medical Mondays".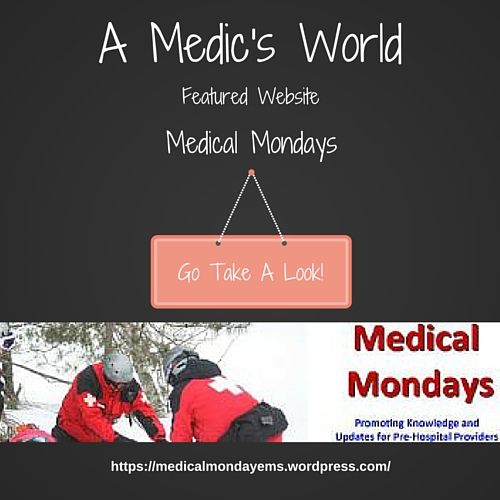 Jay has written some amazing articles, and to be honest, I am a little jealous of how well he puts everything together.  So here a few article titles from his site that caught my interest, and should catch yours.
Do C-Collars Help or Hurt?
Trauma's Deadly Triad
Jay has been involved in EMS for many years; starting as a rescue SCUBA diver, progressing through First Responder, EMT-B, EMT-I and Paramedic.  So take time head on over to his site here, or click the picture above and give him some love, and check out some of the wonderful articles he offers.  ~Tom
Disclosure of Material Connection: I have not received any compensation for writing this post. I have no material connection to the brands, products, or services that I have mentioned. I am disclosing this in accordance with the Federal Trade Commission's 16 CFR, Part 255: "Guides Concerning the Use of Endorsements and Testimonials in Advertising."
Please follow and like us: