I am so happy to see that there will be some new elements being brought to the Star Wars Universe through standalone films like Star Wars Rogue One that will tell the story from a ground-war perspective.
Resistance Fighters Unite to Steal Plans for Death Star
" Rogue One takes place before the events of Star Wars: A New Hope and will be a departure from the saga films but have elements that are familiar to the Star Wars universe," says Kathleen Kennedy. "It goes into new territory, exploring the galactic struggle from a ground-war perspective while maintaining that essential Star Wars feel that fans have come to know. Gareth is such an innovative director and I'm so excited to be working with him and the extraordinary ensemble cast he's selected for 'Rogue One.' "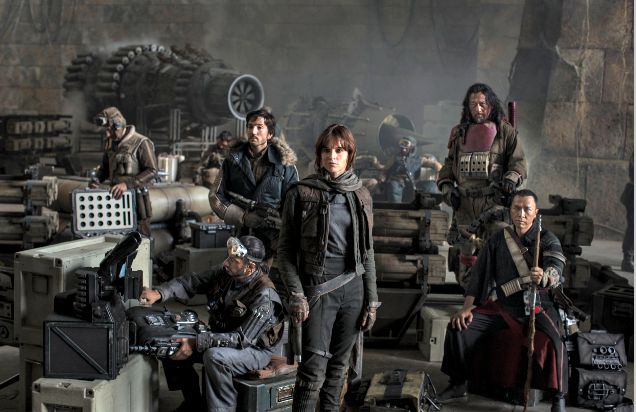 They have assembled an amazing cast including Felicity Jones, nominated for an Academy Award® for her leading role in "The Theory of Everything"; Diego Luna, who was featured in 2008's Oscar®-winning "Milk" and the critically acclaimed "Killing Them Softly"; Ben Mendelsohn, recently nominated for an Emmy® for his leading role in "Bloodline" and co-starring  in the upcoming "Mississippi Grind"; Donnie Yen, Hong Kong action star and martial artist who starred in "Ip Man" and "Blade II"; Jiang Wen, who co-wrote, produced , directed and starred in the award-winning "Let the Bullets Fly" and "Devils on the Doorstep"; Forest Whitaker, recently featured in the critically-acclaimed Lee Daniels' "The Butler" and winner of an Academy Award® for his leading role in 2006's "The Last King of Scotland; Mads Mikkelsen, who starred in "The Hunt" and was the memorable villain from 2006's "Casino Royale";  Alan Tudyk,  who plays a performance-capture character in "Rogue One," stars in the soon-to-be-released "Con Man" series and "Trumbo," which releases this November; and Riz Ahmed, who was recently featured in "Nightcrawler" and starred in the BAFTA-winning film "Four Lions."
So what are you most excited about seeing in this movie? I know I like the thought of it being a separate film about the Star Wars Universe that ties into story lines about the different Trilogy's in their own way.  ~Tom
Disclosure of Material Connection: Some of the links in the post above are "affiliate links." This means if you click on the link and purchase the item, I will receive an affiliate commission. Regardless, I only recommend products or services I use personally and believe will add value to my readers. I am disclosing this in accordance with the Federal Trade Commission's 16 CFR, Part 255: "Guides Concerning the Use of Endorsements and Testimonials in Advertising."
Please follow and like us: