It is truly amazing what can be seen from space, and the true and natural awe, of our Universe. As my tagline for my website says "My little speck in this Vast Universe of Ours" I am just reminded daily, how small my speck really is.  These Auroras are gorgeous and inspirational at the same time.  Can you believe this is our home planet?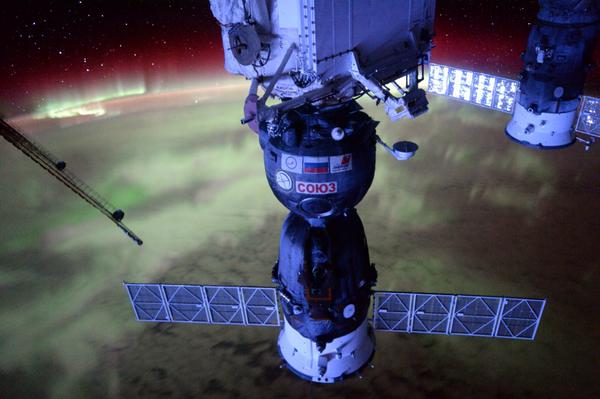 I still have an amazing dream that I would get to visit the international space station, or fly on one of Virgin's Spacecraft Galactic before I die.  Definitely really high up on my bucket list of things I would love to do.
Check out some of the twitter posts from the astronauts in space below:
Uhhhh, wow. pic.twitter.com/VTnCeRpdBE

— Kjell Lindgren (@astro_kjell) August 16, 2015
Day 142. Weekend is fading, but #Aurora is not. Good night from @space_station! #YearInSpace pic.twitter.com/rZAkTmQClF

— Scott Kelly (@StationCDRKelly) August 17, 2015
Antares, Saturn and beautiful auroras! pic.twitter.com/HaZ2EQ3gtd

— 油井 亀美也 Kimiya.Yui (@Astro_Kimiya) August 16, 2015
#Aurora trailing a colorful veil over Earth this morning. Good morning from @space_station! #YearInSpace pic.twitter.com/q7C7R5D6fu

— Scott Kelly (@StationCDRKelly) August 15, 2015
I have always been a fan of outer-space from growing up and reading such classics as The Martian Chronicles by Ray Bradbury and watching Lost in Space and Space 1999 as a kid.
So have you ever wanted to go out in to space? What would you want to see first?
Disclosure of Material Connection: Some of the links in the post above are "affiliate links." This means if you click on the link and purchase the item, I will receive an affiliate commission. Regardless, I only recommend products or services I use personally and believe will add value to my readers. I am disclosing this in accordance with the Federal Trade Commission's 16 CFR, Part 255: "Guides Concerning the Use of Endorsements and Testimonials in Advertising."
Please follow and like us: