September is National Emergency Preparedness Month here in the U.S. and nothing can make you feel more prepared for that, than this Power Supply and Jump Starter from Clore Automotive.  I have had the honor and privilege of reviewing some amazing products from Clore Automotive over the past few years, and they have always impressed me with the craftsmanship and quality that they put into each product that they make.  Check out my review of the JNC Air Jump Starter here, which I still have in my 2015 Nissan Xterra right this moment, just to give you an example of the love I have for the different product lines that they make.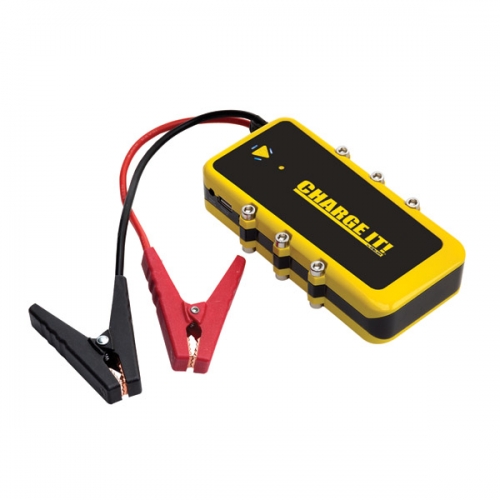 The Charge It! Portable 15000 mAh Power Pac delivers a sense of security, that you can use it when you need it to get through a situation, especially if you find yourself alone, and without help coming for some time, or none at all.
Imagine it's a cold day, you are the last person to leave work that night because of a project that kept you behind.  You walk out the door, the door locks behind you, and you get to your vehicle, go to start it up, and it doesn't want to start.  It's snowing, you hardly have any bars of service on your cell phone, what are you going to do?  If you had this, or any of the other great products this company makes you might not do one thing, and that is panic.
Don't you love having peace of mind?  Wouldn't it be awesome to know that in your time of need that you could depend on a product to help you get home safe?  Well, that is the feeling I get when I use some of the products from Clore Automotive.  Let's check out some of the features of it below.
15000 mAh Lithium Battery
USB Power Bank to charge electronics (extremely handy if you need to charge your cell phone to make an emergency call)
12V Power Supply for 12V accessories
19V Power Supply for laptops/notebooks
400 Peak Amps of jump starting power
270 Cranking Amps of jump starting power
Includes multiple output device adapters (all in a handy zippered storage case for easy storage)
Includes AC and DC charging adapters
Reverse polarity protection
Overvoltage and backfeed protection
Overheat and short circuit protection
With it's ability to jump start most 4 and 6 cylinder vehicles, and the fact that it is a 15000 mAh charger on top of that, this is a perfect accessory for anyone's car, truck, SUV, small watercraft, or keep for emergencies in home kits, or emergency kits for your vehicle.  This will be permanently in mine, and I will feel more secure and safe knowing that it is there to protect me and my wife, and to also be able to use it to assist others (pay it forward) in case there was a need to arise for that.
[review_bank review_id=2]
Overall impression?  With the ability to charge and power your phones, laptops, tablets, music devices, and more.  Along with the ability to jump start most vehicle batteries, this device is perfect for those who like to be prepared like me, or would make a great gift idea for Christmas coming up (it's closer than you think!), for family members you want to keep safe.
Are you prepared for an emergency or situation like this?  Do you currently have something in your vehicle just in case?  Who do you think you would get this for if you bought one?
Disclosure of Material Connection: I received one or more of the products or services mentioned above for free in the hope that I would mention it on my blog. Regardless, I only recommend products or services I use personally and believe will be good for my readers. I am disclosing this in accordance with the Federal Trade Commission's 16 CFR, Part 255: "Guides Concerning the Use of Endorsements and Testimonials in Advertising."
Please follow and like us: