Hey everyone.  Today is me and my wife's 13th Wedding Anniversary.  Life gives you so many journeys to go on.  Events involving School, Family, Work, Life, and that wonderful thing called Marriage.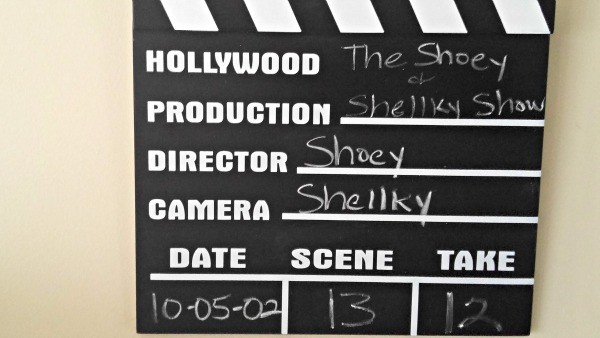 The above photo is a replica clap board we bought at a craft store maybe about 6 or 7 years ago.  It hangs on our wall next to the popcorn machine between the kitchen and family room.  We had this great idea to track the years.  So later tonight we will be changing it from scene 13 to 14 going into our 14th year, and Take 12 to Take 13 being that we completed 13 years so far.  We think our show is a hit, still waiting for a major network to pick it up for syndication!
On October 5th, 2002 Michelle said yes to me.  I cried while reciting my vows, I am kind of emotional that way, but one thing I know is that I can't imagine life without her saying "yes" now.  I think we have all thought about how things could have changed if certain events never happened.  The only problem I had with change was I wish I could have met her sooner.  Our show has a long way to go.  Sure, there have been some cliffhangers, some episodes that teach you lessons, but for the most part, a show that is filled with humor and love.
So what is next?  The adventures continue.  We have aspirations of taking an Alaskan Cruise, a road trip to Prince Edward Island, another long road trip west from Ohio to visit Devils Tower, and the redwoods in California.  We will always take our short trips to Niagara Falls, and Columbus, Ohio but will find new places to go and explore.  We will also find new hobbies to explore, new places to eat, and new shows and movies to go see.
Thank You Michelle for saying "yes".  Thank you for being the "one".  Thank you for being all that you are, and let our adventures continue for as long as time gives them to us.  I love you.  ~Tom
Please follow and like us: