Disney Consumer Products and Interactive Media (DCPI) and Hasbro, Inc. today launched Playmation Marvel's Avengers – the next step in the evolution of play. The groundbreaking system of connected toys and wearables fuses technology and digital storytelling to create a completely new category of play. Hitting shelves across the U.S. and Canada for the first time today, the new toy/game hybrid aims to inspire both kids and parents to get active and creative at playtime.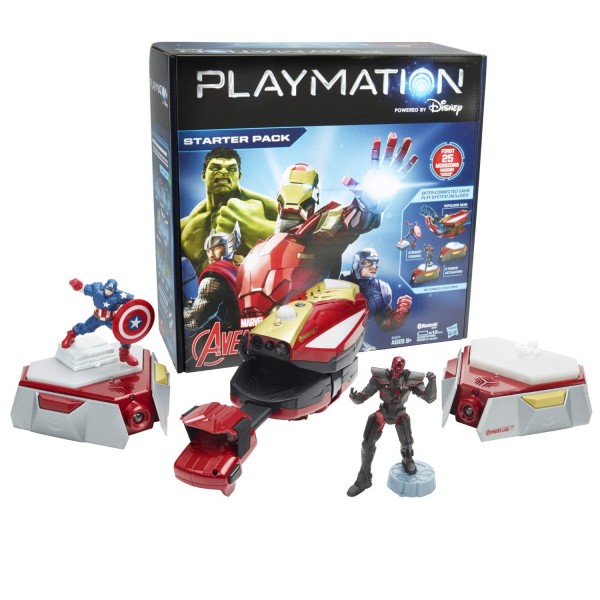 Playmation Marvel's Avengers uses familiar technologies including smart toys, wearables, wireless technology, motion sensors and more, but applies them in ways that are completely new to create a compelling play experience. Playmation is purposely not tethered to an Internet connection so players can run around and explore each adventure from anywhere they want – a bedroom, living room or yard. With multiplayer modes, players can sync their Avenger Gear to tackle missions and combat arenas together, or face-off in competitive play.
"With the launch of Playmation, we are not only creating a new play experience for today's kids but celebrating a new chapter in our long-term partnership with Disney," said Jerry Perez, SVP Global Brand Marketing, Hasbro. "Playmation has been a true collaboration, from global consumer research to product design and development, and we look forward to sharing this amazing new system of play with kids and families around the world."
The Playmation Marvel's Avengers Starter Pack has a suggested retail price of $119.99 and is available in the United States and Canada at mass and specialty retailers, such as Amazon.com, Best Buy, Game Stop, Target, Toys "R" Us, and Walmart, as well as select Disney Store locations and DisneyStore.com.  Additional Playmation Marvel's Avengers connected toys compatible with the Starter Pack, such as Smart Figures and the Prowler Bot are also sold separately.
Offered by Power A, families can also choose from a selection of Playmation recharging solutions and accessories now available, including:Playmation Home Base – to store your gear in between battles; Playmation Avengers Lab Gear Bag – for taking your gear on-the-go; Playmation Repulsor Recharge Pack – provides up to five hours of play on a single charge and fits securely onto the bottom of the Repulsor; and Playmation Activator Recharge Pack –fits securely onto the bottom of the Power Activator and provides up to 10 hours of play on a single charge.
These so remind me of the days we played Laser Tag as a kid, but I love all the new applications they are doing with Marvel Characters as well.  So what do you think about it, something you might explore with your kids, or your inner adult kid?
Disclosure of Material Connection: Some of the links in the post above are "affiliate links." This means if you click on the link and purchase the item, I will receive an affiliate commission. Regardless, I only recommend products or services I use personally and believe will add value to my readers. I am disclosing this in accordance with the Federal Trade Commission's 16 CFR, Part 255: "Guides Concerning the Use of Endorsements and Testimonials in Advertising."
Please follow and like us: