Oh my!  There are times in my life that I love sharing news, but this is one bit of news that I am overexcited to share.  The trailer for Captain America: Civil War is an epic introduction to the next movie in the Marvel Cinematic Universe.
This picks up with story lines from the comic books.  May 6th, 2015 will be another monumental day that will mark what I think will be another success in Marvel telling a story that will be entertaining and filled with action.
Marvel's "Captain America: Civil War" finds Steve Rogers leading the newly formed team of Avengers in their continued efforts to safeguard humanity. But after another incident involving the Avengers results in collateral damage, political pressure mounts to install a system of accountability, headed by a governing body to oversee and direct the team. The new status quo fractures the Avengers, resulting in two camps—one led by Steve Rogers and his desire for the Avengers to remain free to defend humanity without government interference, and the other following Tony Stark's surprising decision to support government oversight and accountability. Get ready to pick a side and join the nonstop action playing out on two fronts when Marvel's "Captain America: Civil War" opens in U.S. theaters on May 6, 2016.
Check out the poster from the movie below as well.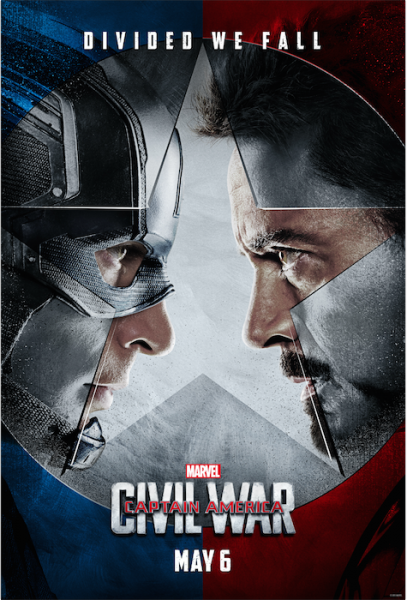 So are you excited about the movie?  Do you plan to go see it?  Share your thoughts below.  ~Tom
Disclosure of Material Connection: I have not received any compensation for writing this post. I have no material connection to the brands, products, or services that I have mentioned. I am disclosing this in accordance with the Federal Trade Commission's 16 CFR, Part 255: "Guides Concerning the Use of Endorsements and Testimonials in Advertising."
Please follow and like us: