This is simply amazing!  As an ambassador for Globalstar, Inc.  I love their products and how they help people everyday.  While I don't have a Spot Device, I do have a satellite phone from them. From Satellite Phones, to emergency response devices like the Spot, they can let someone know you need help.  Check out the information below, and have a great day. ~Tom
Covington, LA (December 8, 2015) – SPOT LLC, a wholly owned subsidiary of Globalstar, Inc., (NYSE: GSAT) and the leader in satellite messaging and emergency notification technologies, announced today that its SPOT family of products has initiated 4,000 rescues around the world since its launch in 2007. SPOT is currently being used by customers to initiate almost two rescues a day and delivers affordable location-based messaging and life-saving emergency notification technology to hundreds of thousands of users, completely independent of cellular coverage.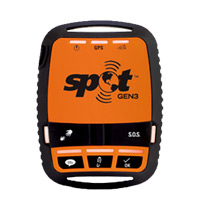 Michael Herrera, SPOT's 4,000th rescuee and a retired Houston firefighter, was off-roading alone in DeKalb County, Alabama on his dual-sport dirt bike when he took a hard fall. Although initially disoriented, his experience as a first responder told him that his injuries were more serious than he could see. It was then that he reached for his SPOT Gen3® and pressed the S.O.S. button. Within 40 minutes of the S.O.S. activation, an ATV and ambulance were onsite. At the hospital, it was determined that he had suffered a broken collarbone, three broken ribs and a partially collapsed lung.
"Until my accident, I'd only used my SPOT for tracking so my wife could be aware of my location when riding off-road.  It was gratifying to know that my SPOT delivered on its promise when I needed SAR services," says Herrera. He also expressed his gratitude to the SAR teams involved in his rescue, "thank you for your service and your quick response."
Herrera and his wife recently traveled to Globalstar's Company headquarters in Covington, Louisiana to meet the team responsible for the life-saving technology he relied upon. He was able to share his story with Company representatives, discuss ideas for continuing to evolve the technology and determine new avenues for reaching prospective customers who would benefit from owning the SPOT solution.
"As a professional firefighter/first responder, having reliable, protective gear was of utmost importance. I have carried this emphasis into my personal life as well with good riding gear for my motorcycle adventures and the SPOT is in my arsenal of emergency gear and protection," says Michael.
SPOT products work virtually everywhere in the world, most recently expanding to provide Pan-African coverage. Offering peace of mind through reliable satellite-based connectivity, SPOT users have the ability to track assets, use location-based messaging and get help beyond the boundaries of cellular.
"We are dedicated to offering affordable, life-saving technology that people can rely on," said Jay Monroe, CEO and Chairman of Globalstar. "Reaching this 4000th rescue milestone is a true testament to the success of our mission, and our entire team takes great pride in the thousands of lives that have been saved through SPOT-initiated rescues over the past eight years. It is evident that SPOT continues to be a go-to companion for anyone adventuring or working outside of cellular range."
"We are pleased to continue to provide such an important service for owners and users of SPOT devices. This day in age, people shouldn't have to worry about lack of access to emergency services as they work and travel the globe, and our 24/7 emergency response center and certified team at the International Emergency Response Coordination Center (IERCC) ensures that should an emergency occur, we'll get you out quickly and safely," commented Mark Garver, CEO of GEOS Safety and Response.
The SPOT family is comprised of a variety of products and services and is currently offering an aggressive FREE holiday promotion:
SPOT Gen3 (currently FREE after MIR plus service) offers enhanced functionality with more tracking features, improved battery performance and more power options including rechargeable and USB direct line power. Features include: SOS feature to immediately reach emergency personnel if required, custom tracking (2 ½, 5, 10, 30, or 60 minute tracking intervals available), motion-activated tracking, continuous tracking and extended battery life.
SPOT Global Phone (currently FREE after MIR plus service) a portable, easy-to-use and data-enabled satellite phone, provides industry-leading, 2-way crystal clear voice quality where cell service won't work. With the availability of Express Data on most data plans and with data speeds of 9.6 Kbps, SPOT Global Phone provides up to four times the data speed of other mobile satellite data providers, enabling emails, file transfers, and basic services to occur at higher speeds.
SPOT Trace (currently FREE after MIR plus service) the newest addition to the SPOT family, is already helping approximately 20,000 customers keep tabs on their high-value assets like boats, ATV's, off-road bikes and RV's. Users can receive theft-alert SMS texts or emails when movement is detected. Customized tracking intervals and notification features, such as power off and daily status messages, are included with Basic Service. SPOT Trace's battery life of up to 18 months and available line power option lets users confidently monitor assets on and off the grid, in near real-time via the SPOT App.
GEOS Search and Rescue is an additional membership offered for as low as $17.95 per year, providing financial relief of possible expenditures occurred during a Search and Rescue incident. The additional membership can cover up to $100,000 of incurred expenses in a given membership year.
Do you have any emergency phones, or response devices?  Do you travel a lot?  Then maybe you should check out some of these, and find one that will work for you! ~Tom
Disclosure of Material Connection: I have not received any compensation for writing this post. I have no material connection to the brands, products, or services that I have mentioned. I am disclosing this in accordance with the Federal Trade Commission's 16 CFR, Part 255: "Guides Concerning the Use of Endorsements and Testimonials in Advertising."
Please follow and like us: