Disney Lion Guard Giveaway
Feb 24 – Mar 4, 2016
Open to USA

Disney Lion Guard Prize Pack Giveaway
Here at Tom's Take On Things, I love sharing opportunities like this with you, especially from the Disney and Marvel product lines. I am helping promote this to bring all of you chances to win the best prizes. In order for me to grow, I need help sharing. Share this post. Everywhere! Or visit some of my reviews here and here. Check out the other giveaways going on here.

To celebrate the release of the amazing Disney Lion Guard DVD, we'd love to offer you some prizes that could become your collectibles and add to the Disney memorabilia you've already gotten.
The movie is about Kion, the second-born cub of Simba and Nala. This cool and brave cub gets into his leader role of The Lion Guard team of animals who keep their watch on and preserve the Pride Lands.
The characters you'll meet are fun and funny, and very adventuresome who strive to preserve the balance of the Circle of Life:
• Bunga the honey badger
• Fuli the cheetah
• Beshte the hippo, and
• Ono the egret
Bringing You Moments To Celebrate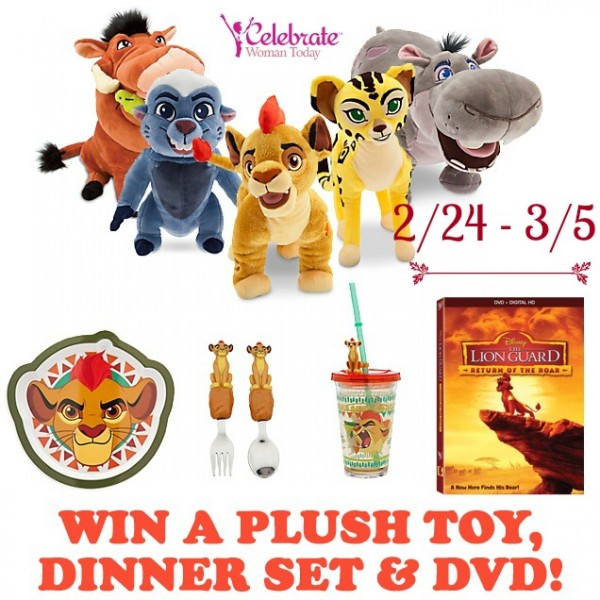 Sponsored by DISNEY
Organized by Celebrate Woman Today
Here's an exclusive music video from the Lion Guard movie, featuring Beau Black who perform "Here Comes the Lion Guard."
A winner of this giveaway will receive a nice Disney package with the following items created with the Lion Guard characters:
• A Plush Assorted Toy from the Movie
• A Plate and Fork-and-Spoon Set
• A Lion Guard Cup with a Cool Straw, and
• A Lion Guard: Return Of The Roar DVD
Enter this giveaway to win all of the goodies, and do return tomorrow to complete the updated daily entries!
Prize – Disney Lion Guard Plush Toy, Dinner Set, DVD

Complete the tasks below to earn entries into this giveaway.
Refer your friends using your Unique Link inside Rafflecopter to earn even more entries to win.
Ends at 11:59pm EDT on March 5, 2016
Disclosure of Material Connection: Some of the links in the post above are "affiliate links." This means if you click on the link and purchase the item, I will receive an affiliate commission. Regardless, I only recommend products or services I use personally and believe will add value to my readers. I am disclosing this in accordance with the Federal Trade Commission's 16 CFR, Part 255: "Guides Concerning the Use of Endorsements and Testimonials in Advertising."
Please follow and like us: