Disclosure of Material Connection: This is a "sponsored post." The company who sponsored it compensated me via a cash payment, gift, or something else of value to write it. Regardless, I only recommend products or services I use personally and believe will be good for my readers. I am disclosing this in accordance with the Federal Trade Commission's 16 CFR, Part 255: "Guides Concerning the Use of Endorsements and Testimonials in Advertising."
Sometimes when you are cleaning your Car, Truck, or SUV you need the right tool for the job.  Brush Hero can make these task easier with a powerful product that can get into spaces that you normally couldn't get to with traditional washing techniques.  Find out about a twitter party starting soon below as well.  I am also giving away a starter set here, check it out for a chance to win.

The nice thing about the Brush Hero, is that it is powered by the water from the hose.  No batteries, and with different brush heads, you can tackle things like furniture, and washing the dog!  Check out some of the things you can use it for below.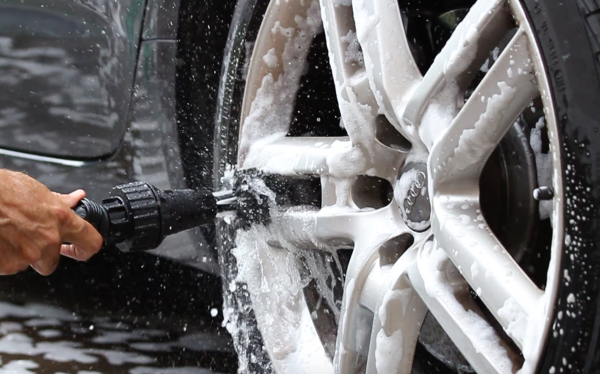 Use Brush Hero to:
Clean tires, rims and hubcaps.
FINALLY navigate around hard-to-reach spots such as lug nuts and wheel spokes.
Erase charred barbecue residue.
Make outdoor furniture look like NEW.
Clean up motorcycles, bikes, boats and ATVs.
Brush away mold and other unwanted build-up.
Take WORK out of the equation and have FUN cleaning!
Check out the video below to see it in action!
Do you like twitter parties? Do you like chances to win prizes, and tweet about a great product.  Then make sure you RSVP here for their Father's Day Twitter Party on June 1st, at 2pm and be part of it for some fun and prizes.  A great friend of mine Darci is helping run the twitter party over at Everything Mommyhood, you should definitely check out her site and join her for the twitter party on June 1st!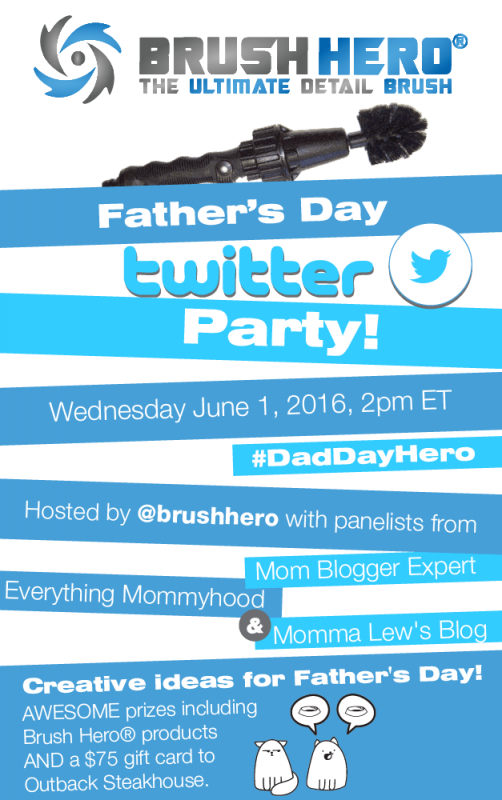 So don't forget about the twitter party, Go RSVP so you can be reminded of it.  Also, check out my giveaway for a Brush Hero Starter Set.
This post contains affiliate links.
Please follow and like us: