EnerPlex Jumpr Slate 5K-L Lightning Power Bank for iPhone 5, 6, iPod Touch 5, iPod Nano 7, iPad Air and Air2
$24.99
Here on Tom's Take On Things, I have had the opportunity to review quite a few different gadgets and portable chargers.  This portable charger is a little different, and set's itself apart from the rest, based on its unique shape, and what it is capable of doing.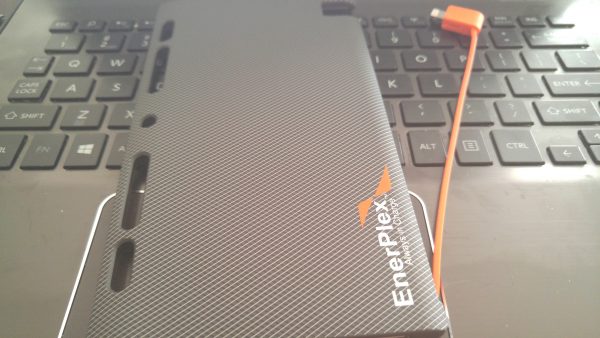 The EnerPlex Jumpr comes in handy for those students or business minded people who want something lightweight, portable, and non-intrusive when it comes to their charging needs for their phones, tablets, or portable devices like a GoPro Cam.
Setting itself apart from the rest, this charger can fit into a folder, or binder for easy carrying.  It is no lightweight when it comes to charging though, it has a 5100 mAh battery that I am sure can get your phone, tablet or portable device though the day so you are not missing opportunities.
Charges smartphones, tablets, cameras, GPS, MP3's and more.
Comes with tethered Lightning cable for easy charging (this was the model I chose to review)
Binder holes to easily place in folders and planners
It comes in two different models, they are both the same except for the tethered cable can either be micro-usb or a lightning cable for Apple devices like your iPhone, iPad, or iPod.
I chose to review the tethered lightning cable one, because while it has the built in cable to charge those devices, it needs to be re-charged by USB, so it has the ability to charge USB devices as well with the USB to Micro-USB cable that is also included.   If you buy the Micro-USB version, you will have to have your own lightning based cable to charge your Apple devices.  You can see in the picture below the difference in the tethered cords.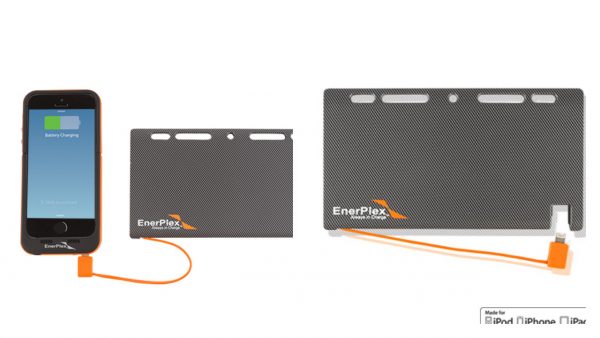 The one on the left is the Micro-USB cord which will fit USB based devices.  The one on the right, which is what I reviewed has the lightning cable for Apple devices.  On the bottom of the lightning cable one is a USB port to charge your Micro-USB based devices.
I love it, it is lightweight, easy to carry for Students, and Business People alike.  It fits mostly in a pocket on my Dockers, so I do use it for travel since it doesn't weigh that much.  The only drawback I can really find with it is that it seems that it doesn't have pass-through charging.  What that means is that I can't have a device charging while it is plugged in, to be charged itself.  I hope that this is something they can incorporate into future models, as I really do like this portable charger.
Check it out as an option for you by clicking here, or grab it as a gift idea for that student in your life, or someone in business that wants a lightweight charger that will get the job done.
I have also included this in my Father's Day Gift Guide for 2016 which you can find here.
Disclosure of Material Connection: I received one or more of the products or services mentioned above for free in the hope that I would mention it on my blog. Regardless, I only recommend products or services I use personally and believe will be good for my readers. I am disclosing this in accordance with the Federal Trade Commission's 16 CFR, Part 255: "Guides Concerning the Use of Endorsements and Testimonials in Advertising."
Please follow and like us: