Here is the thing about Howard's Jewelry Center, they are hosting their biggest and best bridal event of the year, aptly named the Million Dollar Bridal and Diamond Event, and it is going to blow your mind!
I have always wanted to design my wife Michelle a ring of her own.  While I know she cherishes the ring she has on her finger, I have always had a perfect design in my head of a ring that I would love to get her.  I would love to find a way by our 15th Wedding Anniversary which happens next year in October to design her a new ring at Howard's Jewelry Center.
The ring she has now on her finger is actually from Howard's Jewelry Center.  I bought it from Howard himself, some 15 years ago.  I would love to make some changes to that one, or buy something that would complement it one day.  I know that if I never do, that she will still always love me, but she deserves so much more than I can give her sometimes, I would love to do this for her.  Maybe I will find a way.
Here is the thing about Howard's Jewelry Center, they are giving you a chance to meet with some amazing designers in their stores to create that perfect ring, whether it is for an upcoming wedding, or just as a gift for that someone special who means the world to me.  The event is made for Men, Women, or couples who are looking for that design which will glow from a distance, and start conversations where ever you go.  The event, and sale runs from June 17th through June 25th.
Howard's Jewelry Center has millions of dollars worth of loose stones.  Find fancy colored diamonds, important and large stones, unusual cuts and styles, and so many engagement rings you'll have a hard time choosing.  They can also help you find that perfect stone to put in earrings, necklaces and more.  Check out a sampling of whats available below in the gallery, this is just a very small representation of what is actually available at the stores, you have to stop in to see what they have.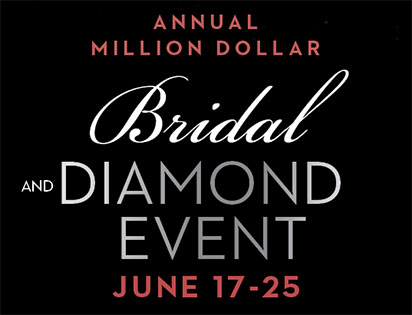 Now before I tell you below, that you have a chance to win a 10K white gold fashion pendant, I want to clue you in on the locations of where the designers from Caro, IBGoodman Bridal, Paramount, and Zeghani will be and when.
June 17th – Maple Heights and Mayfield Stores
June 18th – Parma Heights and Mentor (Inside Great Lakes Mall) Stores
Just click Center Map to see on the locations that Howard's Jewelry Center has.
[mappress mapid="2″]
Even if you don't find what you are looking for at the events that are running from June 17th through June 25th you can still enter to win for the necklace that you see below.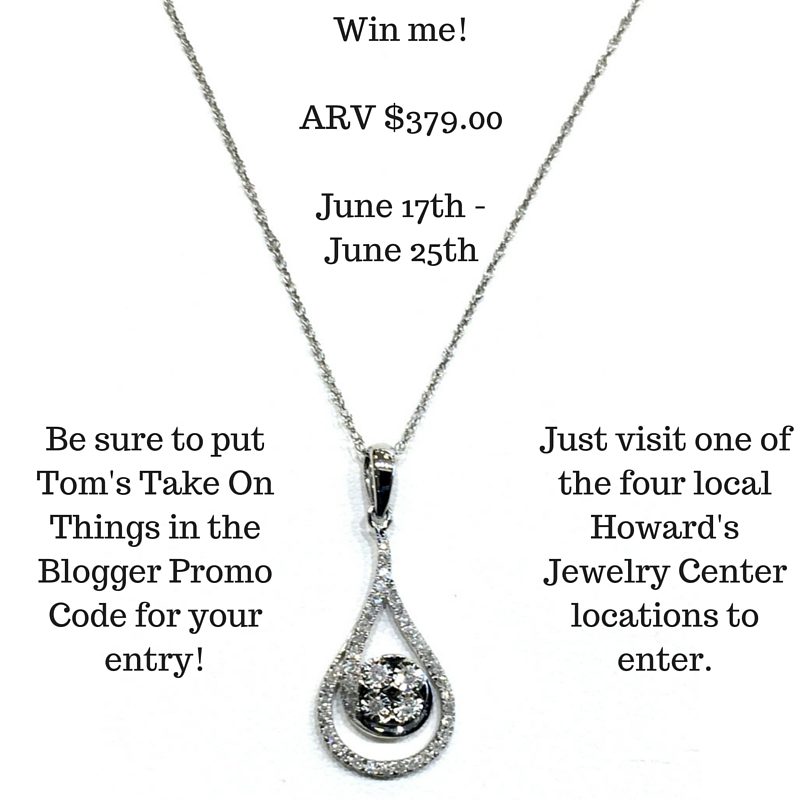 Although you have to visit the store to enter to win it, not only will you see some amazing designs, and precious stones, you will have access to designers on certain days to create that masterpiece that will last a lifetime.
You have to fill out the entry form in the store (any of them) pictured below.  Be sure to write your name, email or phone, and my blog name to enter.  The necklace has an ARV of $379.00 and you have a chance to win it.  Just visit one of the stores on the map above, check out all the great designs, and enter to win between June 17th and June 25th.  Good Luck, and thanks for being part of Tom's Take On Things.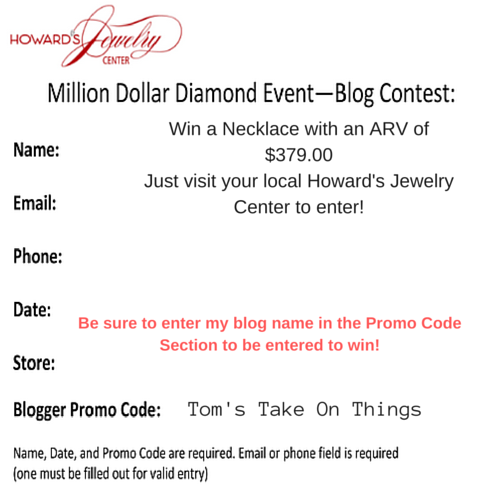 I really hope you win.  If you know anyone looking for that perfect gift, or getting ready to get married, or propose to someone, be sure to share this with them, so they are aware of the event, and also have a chance to win this great necklace!  ~Tom
Disclosure of Material Connection: This is a "sponsored post." The company who sponsored it compensated me via a cash payment, gift, or something else of value to write it. Regardless, I only recommend products or services I use personally and believe will be good for my readers. I am disclosing this in accordance with the Federal Trade Commission's 16 CFR, Part 255: "Guides Concerning the Use of Endorsements and Testimonials in Advertising."
Please follow and like us: