The Voices is one of those movies you will either really like, or not care for at all.  Why do I say that? I think it took me the second time watching it to truly appreciate what it was trying to do, and the entertainment it could bring.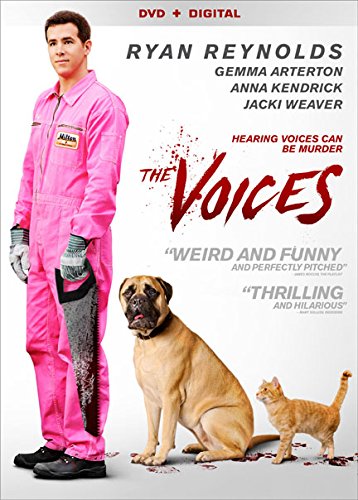 The Voices stars Ryan Reynolds playing a character trying to fit in after a childhood of distress and fitting in as an employee at a bathtub factory with the help of his court appointed psychiatrist.  As things play out, an office crush that goes bad, it goes from bad to worse for Jerry, who makes wrong decision after another with the help of his evil talking cat, and a dog that seems to try and help.
Jerry (Ryan Reynolds) is that chipper guy clocking the nine-to-five at a bathtub factory, with the offbeat charm of anyone who could use a few friends. With the help of his court-appointed psychiatrist, he pursues his office crush (Gemma Arterton). However, the relationship takes a sudden, murderous turn after she stands him up for a date. Guided by his evil talking cat and benevolent talking dog, Jerry must decide whether to keep striving for normalcy, or indulge in a much more sinister path.

– Written by Lionsgate
This is one of those horror/thriller movies that actually incorporates comedy pretty well.  Often times horror and comedy don't mix unless you are doing a spoof movie, but this truly takes the charm that Ryan Reynolds has and infuses it into a horror movie that I think would not be as good as it was, if it had anyone else playing the character of Jerry.
This is a movie that you should give a chance to.  I think you will be pleasantly surprised.  You can grab a copy of it here, or rent it on Amazon as well.  It's not for everyone, but I don't consider myself like everyone else, so I really did like it.
Did you see it?  let me know your thoughts below.   Would love to know what you thought of it. ~Tom
Disclosure of Material Connection: Some of the links in the post above are "affiliate links." This means if you click on the link and purchase the item, I will receive an affiliate commission. Regardless, I only recommend products or services I use personally and believe will add value to my readers. I am disclosing this in accordance with the Federal Trade Commission's 16 CFR, Part 255: "Guides Concerning the Use of Endorsements and Testimonials in Advertising."
Please follow and like us: