I have to admit I haven't seen this movie yet.  Don't get me wrong, I wanted to see it, but between sold out theaters, and being sick, I just didn't get to see it yet.  I will, and I cant wait.
Captain America: Civil War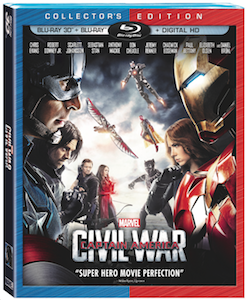 When Marvel's "Captain America: Civil War" arrives early on Digital HD, Digital 3D and Disney Movies Anywhere on Sept. 2 and on Blu-ray™ 3D, Blu-ray, DVD and On-Demand on Sept. 13, viewers can join the nonstop action and pick their side—Team Cap, commanded by Steve Rogers (Chris Evans), or Team Iron Man, led by Tony Stark (Robert Downey Jr.).
Rogers and Stark are joined by a star-studded lineup of beloved Marvel Super Heroes, including Natasha Romanoff aka Black Widow (Scarlett Johansson), Bucky Barnes aka Winter Soldier (Sebastian Stan), Sam Wilson aka Falcon (Anthony Mackie) Colonel James "Rhodey" Rhodes aka War Machine (Don Cheadle), Clint Barton aka Hawkeye (Jeremy Renner), Vision (Paul Bettany) and Wanda Maximoff aka Scarlet Witch (Elizabeth Olsen), along with new recruit Scott Lang aka Ant-Man (Paul Rudd) and joined by two new additions to the MCU: T'Challa aka Black Panther (Chadwick Boseman) and Peter Parker aka Spider-Man (Tom Holland).
More than 60-minutes of thrilling, exclusive bonus material includes: an inside look at the evolution of lead characters Steve Rogers and Tony Stark, a behind-the-scenes exclusive on the making of Marvel's "Captain America: Civil War," never-before-seen deleted scenes and hilarious outtakes. Plus, home audiences can learn more about the latest additions to the MCU and get an exclusive, first look at Marvel's "Doctor Strange," starring Benedict Cumberbatch, coming to theaters Nov. 4, 2016.
Make sure you grab your copy of  Captain America: Civil War here today over at Amazon.
Disclosure of Material Connection: Some of the links in the post above are "affiliate links." This means if you click on the link and purchase the item, I will receive an affiliate commission. Regardless, I only recommend products or services I use personally and believe will add value to my readers. I am disclosing this in accordance with the Federal Trade Commission's 16 CFR, Part 255: "Guides Concerning the Use of Endorsements and Testimonials in Advertising."
Please follow and like us: