Breathometer, Mint: The Smart Oral Health Monitor, White
$77.00
Pros
Easily monitor the status of your oral health with a simple, connected experience
Get immediate feedback with the Mint app, designed to visualize your test results
Mint is compatible with devices running iOS 9 or Android 4.4.4 or newer
Be better about your Oral Hygiene!
Featured on the TV show Shark Tank
Cons
No Instructions or Quick Start Guide in Box
App initially hard to find on iOS app store and Google Play
Lack of FAQ on Main Website
Bad Breath, do you have it?  Would you hope a family member or close friend or colleague would tell you if you did?  Or would it mortify you to find out that way?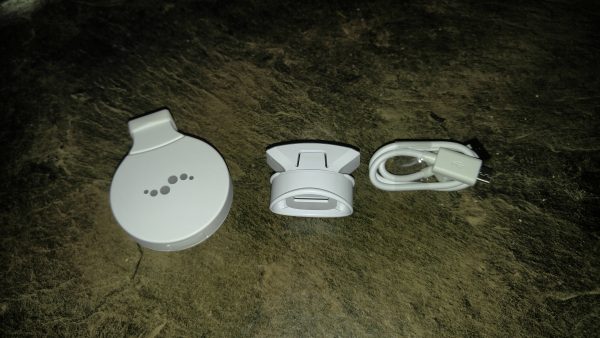 What if I told you there was a gadget that could help tell you if you had bad breath? and steps you could take to fix that bad breath if you had it?  There is a smart way to monitor your oral health care* and it is a few steps away on your Android or iOS based smartphone with the gadget called Mint.
*When used properly, the Mint device measures VSC's, which are correlated to gum disease, bad breath, and the concentration of anaerobic bacteria in the mouth; three symptoms of poor oral health.
I was given an opportunity to review the Mint gadget.  Keep in mind, regular visits to your dentist, and following advice that they give you should always be considered first.  This gadget just gives you the ability to keep up with your oral hygiene in-between visits, finding out results that could help you find plans to reduce those moments where bad breath and gum disease has plagued you in everyday life.
So are you someone who likes the idea that technology can enhance our lives and make it better?  Then this device is truly for you then.  It allows you to take step by step guides and tests from early in the morning when you first brush your teeth, to using it to monitor what happens after you eat certain foods, to the very last moment of the evening, and everything in the middle.
The Mint app captures and graphs your average daily results within a timed program to provide you with an overview of how you are tracking against your goals and what you want to accomplish.  Need to know if your diet is affecting your bad breath? Need to know if one toothpaste might be doing better than another? What about your flossing schedule? how does that all come into play?  Using the wrong mouthwash, all of these can be tracked, with input from the device and your own personal feedback as well.
Once you download the app, for either iOS 9 or Android 4.4.4 or better, it started to become easier to understand how to use the device.  The box that it came in, has the unit, the mouthpiece, and the USB charging cable.  There were no instructions, or a quick start guide included at all.  I also think if they could have included a barcode to scan on the box for which ever device you are using to download the app would have been beneficial as well, when I first typed in "Mint" in the search box in the iOS app store, or on Google Play, it didn't find it initially, I had to type in the word "breath" after it, and then it popped up in both platforms.
So does it work?  I did an anytime test to try it out.  This is a test you can do at anytime that is not tied to a routine or testing regiment. The app gives you on-screen prompts on what to do from turning on the device, to holding the device away from you, breathing in and out of your nose for 25 seconds and then telling you not to breathe into the device, but to just let the gadget do all the work, which it did.
My first test?  I got an A.  Good start I think.  If you had results other than an A, I am sure it would have given you steps on what to do next, and how to improve your grade and improve your oral hygiene or bad breath.
I am going to give this more testing over the next few weeks, and see if things change at different times of the day, or after certain meals.  Is this gadget for everyone?  No.  Is this for those who love gadgets, or love to have graphs and visual results to show progress of their oral health care? Then yes.  There is a learning curve to overcome I think, and if you can break through that, then the Mint gadget is for you.
So who is ready to show all of their hard work to improve their oral hygiene off to their Dentist?  With this gadget and all the information it tracks you can literally do just that.
Other than the lack of documentation, and information on how to use it on their website, it is really a neat device that not only you can use, but those in your family can as well.  You can buy supplemental mouth pieces that can be used so everyone has their own.  The gadget has a self cleaning function so it can ensure that results from a previous test do not conflict with the current one that you might be doing.
This would make a great idea for a stocking stuffer, or a Christmas present.  It is never to early to shop! ~Tom
Disclosure of Material Connection: I received one or more of the products or services mentioned above for free in the hope that I would mention it on my blog. Regardless, I only recommend products or services I use personally and believe will be good for my readers. I am disclosing this in accordance with the Federal Trade Commission's 16 CFR, Part 255: "Guides Concerning the Use of Endorsements and Testimonials in Advertising."
Please follow and like us: