I am usually a mosquito magnet.  Maybe it's my glowing personality, but more likely it's something to do with my body chemistry.  I am going to stick with the glowing personality theory now that I think about it more.  The Bite Helper was a gadget designed to be a safe alternative to chemicals, taking medicine, or using creams or ointments.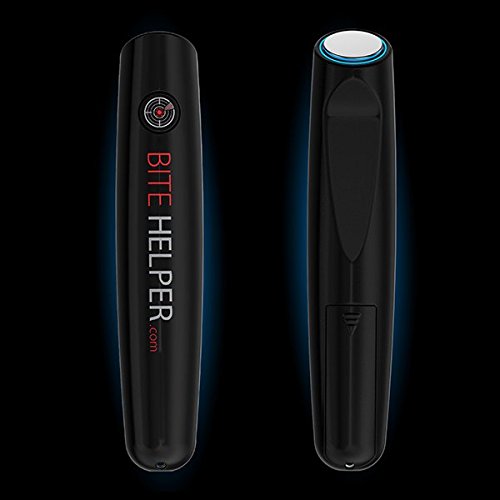 There are two ways to look at this and that is subjectively and objectively.
Objectively:
The science behind this gadget should work.  It delivers heat & vibration to the affected area to increase localized blood flow and circulation, therefore helping sooth the itch.  It was certified as a FDA Class II Medical Device for the treatment of itching and irritations from stings and bites.
Subjectively:
Will it work better than chemicals, or sprays? Does it work better than creams or ointments?  Or medications?  This is based on what works best for you.  I am a firm believer you won't know what works best for you, until you try every option available.  With the Bite Helper, I think it is worth the cost, and effort.  Especially if it can give relief to at least one person, and they benefit from it.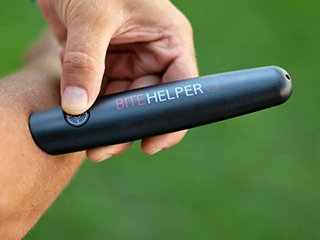 I tried it on an insect bite on the corner of my left shoulder.  That was a little difficult to get a picture of using the device and taking the picture at the same time, so I focused on using the gadget first.  The company recommends keeping it applied to the affected area for no more than 45 seconds at a time.  I completely agree with this recommendation.  While it does vibrate, it is heating up at the same time.  I actually stopped after 30 seconds, as it became a little hot.  When you use yours, when you get one, make sure if you feel that it is burning, that you stop, do not feel you are required to go the whole 45 seconds.  Don't overdo it. Ever.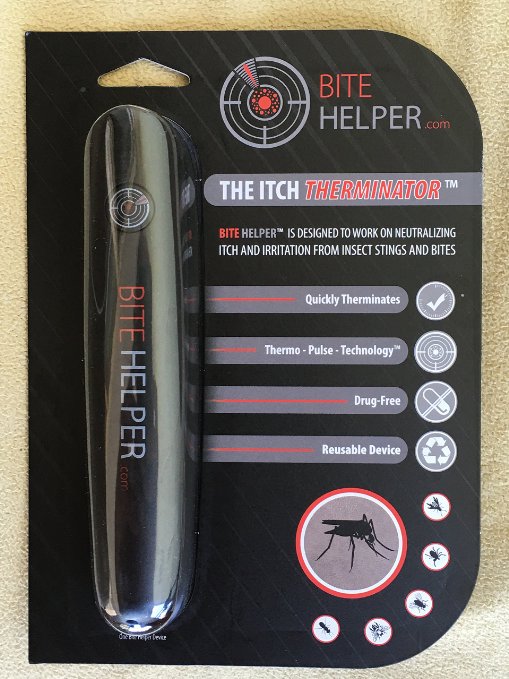 I think it worked for now, it is not as itchy as it was in the beginning, and I am not sure if I will have to do it again to the same area if it returns or not, but time will tell.  Is this method for everyone? as I said earlier, I think you should give it a try, and if it doesn't fit your personality, it might be perfect for the spouse, or the little ones.
This would be perfect for those who love gadgets of all types, or maybe something you might want to take on a road trip or camping?  Perfect size to fit as a stocking stuffer as well, it's never too early to shop for those gifts!
You can grab it here on Amazon for $19.95, requires 2 AA batteries, and it might be better than all those chemicals that we all use today.  ~Tom
This post may contain affiliate links.
Disclosure of Material Connection: I received one or more of the products or services mentioned above for free in the hope that I would mention it on my blog. Regardless, I only recommend products or services I use personally and believe will be good for my readers. I am disclosing this in accordance with the Federal Trade Commission's 16 CFR, Part 255: "Guides Concerning the Use of Endorsements and Testimonials in Advertising."
Please follow and like us: