JClaw Tek offers people like us some amazing products to stay prepared.  Will there ever be a Zombie Apocalypse? Probably not.  Do I wish for one? The jury is still out on that one.
I have learned after being a Paramedic for 24 years, and also being a Veteran of the U.S. Army that you can never be too prepared.  If you think you are prepared enough, maybe go 10% above that at minimum is my rule of thumb.
In addition to keeping my wife and I safe.  I try to keep members of the family safe as well.  Helping them with first aid kits for their vehicles, and also sharing with them things that they should have at home too.  We all should be doing this for our family and friends, seeing someone not ready for an emergency is something that can be avoided.
Zombie First Aid Kit
Let's talk about this first aid kit from JClaw Tek first.  I cannot stress enough how important it is that everyone have a first aid kit in their home, car, SUV, motor home, or boat.  Having one with you if you hike or maybe take bicycle rides is a good idea as well.
Every kit should have basics like the ones included in this kit:  Stainless Steel Sheers, Tweezers, an emergency blanket, protective gloves, medical tape, bandages, gauze pads, alcohol wipes and more.
The right sized pouch to fit all the supplies that you carry is essential as well.  This one not only has most of everything that you might need, but it can be easily carried on your belt loop, in your glove box, or in a backpack.  Everything is labeled so finding what you need quickly is easy to do!
[bctt tweet="Don't be afraid to help someone.  With this Zombie First Aid Kit, you will be ready!" username="medictom"]
What I like most about the pouch is that it is waterproof and feels like it can take on the elements being there when you need it most.  It's also TSA Compliant, so you can take it anywhere that you travel as well.
Kodiak

Lightweight Survival Knife

Staying prepared with a first aid kit is essential.  I have talked about that, and have shared my thoughts of the JClaw Tek Zombie First Aid Kit above.

Having a survival knife is just as important.  There are going to be times when you might need to cut a seat belt free from you or a loved one.  What if you got stranded somewhere and you had to start a fire?  Looking in front of you at night with the built-in LED flashlight helps out as well.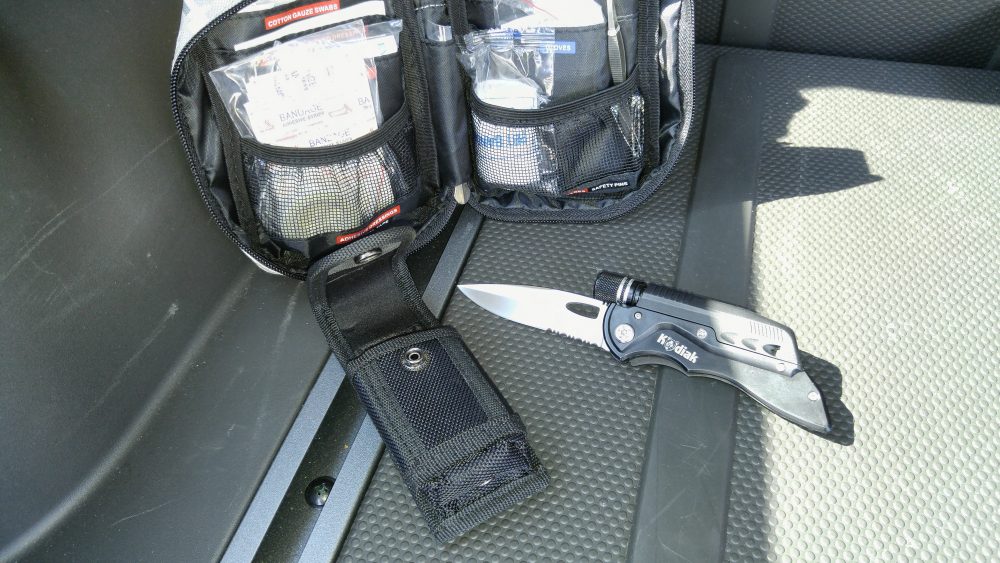 The 440 Grade Stainless Steel blade and the magnesium alloy fire starter are the things that steal the show about this survival knife.  How many of us know how to start a fire?  If you raised your hand I congratulate you and everyone should be thankful to have you as their friend.  I learned how to do it while serving with the Army and using flint instead.
For those of us that don't know how to start a fire, you will be able to quickly with this awesome feature of the Kodiak Survival Knife.  I plan to keep my knife and first aid kit together so that I am twice as prepared for any situation that might arise. It also comes with a Lifetime Warranty.
Keep in mind if you plan to pack your first aid kit when you fly for travel, be sure to leave your knife at home as it's not TSA compliant and probably would get you in some trouble if you had it with you!
Overall summary.  I love both of these products.  They are quality made and built to last.  You might feel better in an emergency if you knew you had them.  They would make great gifts for the family, stocking stuffers for kids going off to college, or perfect for someone to unwrap with the holidays approaching.
Grab the first aid kit here on Amazon, and the Kodiak Survival knife here as well.
Disclosure of Material Connection: I received one or more of the products or services mentioned above for free in the hope that I would mention it on my blog. Regardless, I only recommend products or services I use personally and believe will be good for my readers. I am disclosing this in accordance with the Federal Trade Commission's 16 CFR, Part 255: "Guides Concerning the Use of Endorsements and Testimonials in Advertising."
Please follow and like us: