Children 8+ years of age or older will have fun building and playing with this K'NEX Super Strike Rotoshot Blaster Building Set.  I stress the "older" part, because I feel that adults could easily have fun constructing this and having as much fun as the kids.
K'NEX Super Strike Rotoshot Blaster
K'NEX has always created some amazing products that have led to great skills being learned on how to build something and allow you to have fun as well.
At 201 pieces, this will help you harness a young mind and engage their critical-thinking skills to build something not only educational, but fun. Maybe you have a child who aspires to become an Engineer?  This will be something perfect to get them prepared for a future filled with science, math, technology and engineering.  Let their creativity take over and inspire them to accomplish things that they dream to become.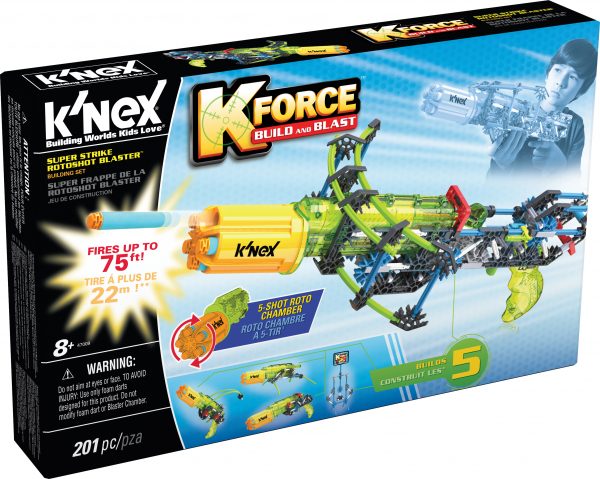 Instructions to build it were easy to understand, and included pictures for every step along the way.  The parts make it feel durable, and it held together for several shots that I tested.
The description that comes with this K'NEX Super Strike Rotoshot Blaster says it can launch the foam darts up to 75 feet away.  They aren't kidding.  The Super Strike Blaster has some serious power.  Standing about 50 feet away and firing towards the front door, it hit with accuracy and force.
I mentioned parts and the force at which this launches.  There are small parts involved to building this.  I need to stress keeping these away from small children under the age of 3 as they can become choking hazards.  Secondary note:  While the darts launch quickly and with force, establishing not to shoot directly for another persons eyes is recommended in my opinion.  Just the thoughts of a retired Paramedic.
One of the best parts about K'NEX in general is the customization of what you can build.  Visiting their website here, you can find 4 more build designs and a target design that you can construct.
This definitely would make a great gift idea for that young mind that loves to build.  With Christmas fast approaching, most would be excited to see this under the tree, ready to unwrap.  Grab yours here from Amazon today, or add it to their wish list or yours.
Now, I know what you are thinking.  He mentioned those that were older earlier in the review.  I did and you are very perceptive for noticing.  Toys in general have always been designed with children in mind.  I am one of those who believes that there are exceptions to the norm, and this is one of those examples.  Who says kids get to have all the fun?  There are so many adults out there that have to believe like I do, or at least I hope they do.  I am just a big kid at heart most of the time, so that is why I would so buy this for me, or many things that K'NEX makes for that same reason.
[bctt tweet="K"NEX makes building fun and educational whether you are a kid or an adult" username="medictom"]
This was a fun review.  I hope you enjoyed it.  I hope you consider this as a gift idea for those 8+ years of age or older.  Smiles will follow, fun too.
Disclosure of Material Connection: I received one or more of the products or services mentioned above for free in the hope that I would mention it on my blog. Regardless, I only recommend products or services I use personally and believe will be good for my readers. I am disclosing this in accordance with the Federal Trade Commission's 16 CFR, Part 255: "Guides Concerning the Use of Endorsements and Testimonials in Advertising."
Please follow and like us: