Track You and Your Stuff with SPOT Giveaway – 2 Winners
For those of you that travel to far away places or those that might go hiking or camping in remote places you might need help one day.  Maybe you might also have a need to track your Car or SUV, boat, or loved one.  SPOT LLC makes some devices that allow you to do just that in case cell phone service is not available where you are.
With one of the following devices, you can have peace of mind knowing that help can be called or that you can track your Car, Truck or Suv and know where it is, or maybe know where your teen is to keep them safe.  Also if your vehicle is ever stolen, you will be able to track it easily, and provide law enforcement with vital information.  Maybe put the SPOT TRACE under the seat, so it is not visible.  The SPOT GEN3 is very valuable for those who travel, hike, or are in areas where a cell phone might not work.
SPOT GEN3 gives you a critical, life-saving line of communication when you travel beyond the boundaries of cell service. The latest generation of award-winning SPOT devices, SPOT GEN3 lets family and friends know you're okay, or if the worst should happen, sends emergency responders your GPS location – all with the push of a button.
The SPOT TRACE offers advanced theft-alert tracking for anything. Instantly receive a text or email when your most valuable assests move anywhere, or follow them on Google Maps anytime on your phone or computer.  Affordable and easy to use, SPOT TRACE is a no-brainer for your cars, boats, motorcycles, toys and other valuables.
Grand Prize winner will receive the SPOT GEN3 with 1 year of basic service and the First Place winner will receive the SPOT TRACE with 1 year of basic service.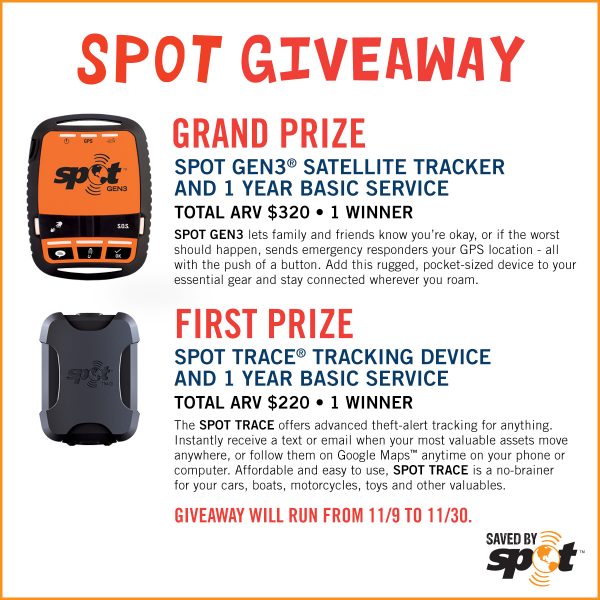 Disclosure of Material Connection: I have not received any compensation for writing this post. I have no material connection to the brands, products, or services that I have mentioned. I am disclosing this in accordance with the Federal Trade Commission's 16 CFR, Part 255: "Guides Concerning the Use of Endorsements and Testimonials in Advertising."
Please follow and like us: