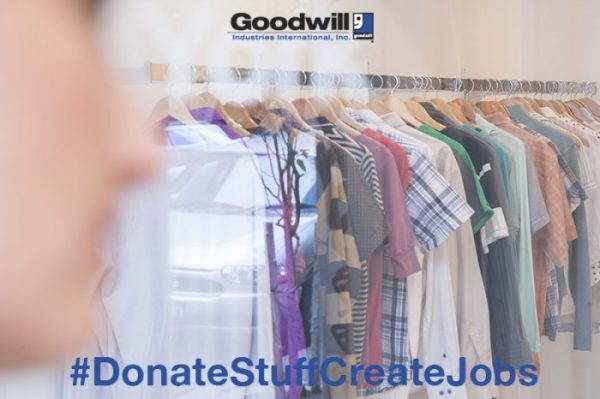 The holidays are a time of love, joy and pure magic for most of us. But if we are really being honest, there are a lot of people who struggle through the holidays. While everyone is celebrating, cooking, gathering with friends and shopping – there are those out there who are struggling to find jobs and keep the lights on.
So in a time of giving – a time that is a joy for some and a struggle for others – how do you help?
It's simple. When you donate your stuff to Goodwill®, you create opportunities for individuals in your community looking to find a job and build skills, including veterans and military families, single mothers and many others.
Last year, people helped local Goodwill organizations collectively place 312,000 people in employment in the United States and Canada. In addition, more than 35 million people used computers and mobile devices to access Goodwill education, training, mentoring and online learning services to strengthen their skills. WE did that. Those of us that are donating our items and shopping at Goodwill. That is all it takes – it really is that easy.
So how do you help, exactly?
Walk around your home and collect items you and your family no longer need — that shirt that's been hanging in the back of your closet for three years, the toy trike your five-year old has outgrown, the holiday gift from grandma you never quite found a place for, etc.
Donating items that are in working condition, contain all of their pieces and parts, and are free of stains and rips is the best way to ensure that your goods do the most good. While they accept most clothing and household items, there are a few things they can't accept – if you are unsure, it's best to give your local Goodwill organization a call first to find out any rules or restrictions around these items.
Ready to drop off your items? Just use the Goodwill locator app and check the box for "Donation Site" to find your nearest Goodwill drop-off location. Donating a lot of items? Some Goodwills offer donation pickup services – give yours a call to find out what's available in your area.
While you are there – shop around! They have so many gently used and even new items that you may find that you didn't even know you needed or wanted. When you shop at Goodwill, you are also shopping for a cause.
Disclosure of Material Connection: I have not received any compensation for writing this post. I have no material connection to the brands, products, or services that I have mentioned. I am disclosing this in accordance with the Federal Trade Commission's 16 CFR, Part 255: "Guides Concerning the Use of Endorsements and Testimonials in Advertising."
Please follow and like us: