Let's talk about how you can benefit from a Health Care Savings Account and have an opportunity to win a $100 Target Gift Card here on Tom's Take On Things as well.
Health Care can be so overwhelming these days.  There are deductibles, co-pays, and costs associated with taking care of you and your family.  UnitedHealthcare offers its participants so many options to curbing some of these costs and making it easier to plan for your health care now or in the future.
A HSA (Health Care Savings Account) is a personal bank account to help you save and pay for covered health care services and qualified medical expenses that is under the insurance plan that you choose.   You own the account.  You, your family, or your employer can add money to it at any time for you to use for expenses in your heath care.
While there are limits on how much you can deposit each year, there are no limits to how much you can save in the plan over the life of the plan.  Better yet, any money you don't use from the current year rolls over into the next year, making it easy to have money to cover costs that you might not normally be ready for if a health crisis was to occur.
Did you know that a Health Care Savings Account is tax free too?  No federal taxes on deposits you make, money you spend from the account or any interest earned.  In some cases it is State Tax free as well, but check with your individual state for regulations.
UnitedHealthcare has made a wonderful .pdf that you can view here to find out the differences in three health care accounts and how they can benefit you and your family.  Be sure to check it out for more information.
If I was to own a Healthc Care Savings Account, I would use it to maybe cover a dietician to learn to eat and live healthier.  You could also use it to cover that unexpected knee surgery or rehabilitation from a fall maybe.  There are countless ways where a HSA would benefit you, what would you use it for?
Want to win a $100 Target Gift Card?
Just take a quick quiz using the first entry in the giveaway widget below and you are on your way.  You must enter your name, email address and the promo code:  Tom's Take On Things to be officially entered.  Entries will be verified with sponsor before winner is selected.
You can do this daily! Just keep coming back to enter that entry and the others for a greater chance to win!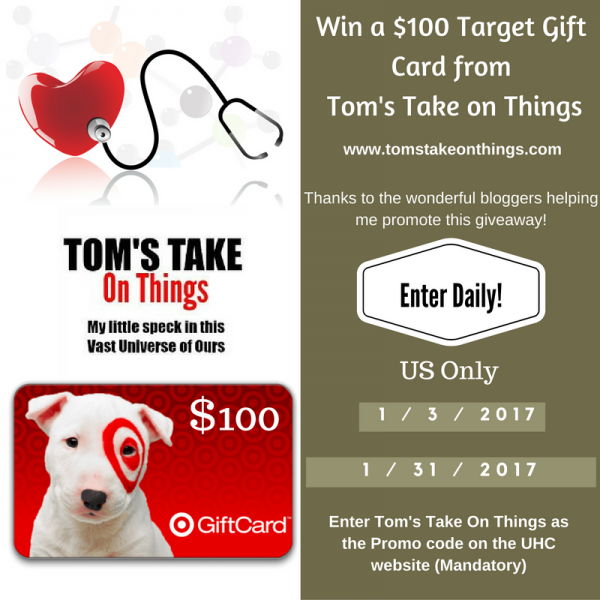 Disclosure of Material Connection: This is a "sponsored post." The company who sponsored it compensated me via a cash payment, gift, or something else of value to write it. Regardless, I only recommend products or services I use personally and believe will be good for my readers. I am disclosing this in accordance with the Federal Trade Commission's 16 CFR, Part 255: "Guides Concerning the Use of Endorsements and Testimonials in Advertising."
Please follow and like us: