Whether you are single or have a family, finding ways to stay on budget can be difficult and make you feel like you are jumping through a number of hoops to save some money.
From personal experience I can share with you that even I get worried about paying for health care costs and expenses.  While I was in the military and serving in the Army if we had something wrong we went through the proper channels and everything was taken care of.  That was almost 25 years ago.  Now I try and ensure that with regular visits and following my doctors plans that I can avoid some of the unexpected costs of health care.
UnitedHealthcare helps you stay on a budget when it comes to your health care plan with all of the amazing tools they offer to all of their subscribers.
Some ways to not break your bank when it comes to health care:
Knowing your in-network and out of network providers will make a difference in how much you pay out of pocket for your health care needs.
Make a plan and ask lots of questions.  There is nothing wrong with going to see your doctor with a notepad in hand with all the questions you have about your health.  Not only is it practical but it may save you money in the long run by initiating plans on your health at the same time.
Reduce your health care costs and check to see if you can initiate a Health Care Savings Account.  UnitedHealthcare has great information about starting one and how you can use it to lower your costs throughout the year.
Understanding the benefits of your health care plan can save you money and lower your health care costs as well.  They have a 24-hour Nurse line that you can call to find out if it is something that you should go to an emergency room for or not.  You can also visit Quick Care or Urgent Care centers that might not only save time but money as well.
Some of what I described above can be seen in the video below.  Check it out.
Now I know you love hearing ways about saving money but what about ways to win it?  I know it's a $100 Target gift card, but it's close!
Keep in mind, there are 3 different games to play, you have to play all 3 in order to have a chance to win the prize I am giving away.  You also have to enter "Tom's Take On Things" as the promo code for your entry to count.  So don't miss a chance to win.  You can view what the promo code box looks like by clicking here.  Also, you can enter daily, yes daily! to get more entries.  Don't forget about the prizes you can win directly from the UnitedHealthcare site as well.
Due to a technical issue on the sponsors website, the giveaway is ending earlier than the 11:59pm close time.  A winner will be selected soon.  ~Tom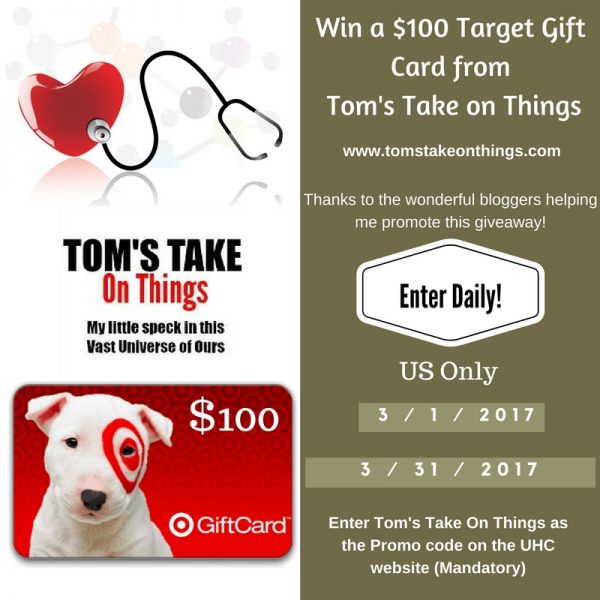 Disclosure of Material Connection: This is a "sponsored post." The company who sponsored it compensated me via a cash payment, gift, or something else of value to write it. Regardless, I only recommend products or services I use personally and believe will be good for my readers. I am disclosing this in accordance with the Federal Trade Commission's 16 CFR, Part 255: "Guides Concerning the Use of Endorsements and Testimonials in Advertising."
Please follow and like us: