Disclosure of Material Connection: I received one or more of the products or services mentioned above for free in the hope that I would mention it on my blog. Regardless, I only recommend products or services I use personally and believe will be good for my readers. I am disclosing this in accordance with the Federal Trade Commission's 16 CFR, Part 255: "Guides Concerning the Use of Endorsements and Testimonials in Advertising."
In the time I have watched TV throughout my life, there have been few shows like Firefly that hit home and truly captivated me in not only it's story but it's cast.  RockLove Jewelry captures part of that spirit with this Firefly Browncoat Necklace that I was given a chance to review.
RockLove Jewelry really takes time to create pieces that connects with people on different levels.  They have pieces that men and women would both enjoy.  Last year I had a chance to review this Stargate Ring and I would love for you to go check out that review.
Something that connects me to this Dog Tag Necklace is that I am a veteran of the U.S. Army and I would so wear this if I could when I was in.  I also think I would have made a great browncoat in the Firefly Universe.  How about you?
I love the aesthetics of the necklace and the attention to detail on making it look aged and something you would have owned for some time.  You should click the banner below to check out some of the other Firefly and Serenity related items over at RockLove Jewelry.
They just don't have things related to Firefly.  They have collections dedicated to Guardians of the Galaxy, Star Trek, Warcraft, Stargate, The Hobbit and so many more.  Be sure to visit their website here for more gift ideas for those that you love, or to give yourself the ultimate gift that you will cherish.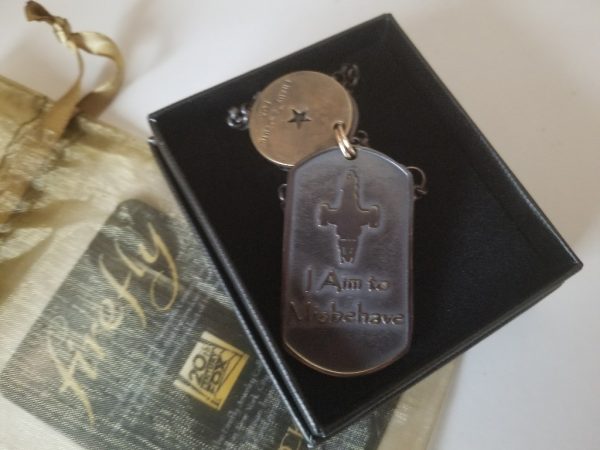 I am one who always has the mentality  "I Aim to Misbehave" because getting into trouble can be half the fun.  I simply love this necklace.  I do have to try and find a bigger chain for it.  That is my only negative I found for this awesome necklace.  It's not their fault though, I do have a large neck!
This necklace, or any of their other amazing creations truly needs to be on your radar as gift ideas for yourself or those you love.  They have a little bit of everything for everyone.
Please follow and like us: