[signoff]
Disclosure: This post has been sponsored by Pfizer Consumer Healthcare. All thoughts and reviews are my own.
It is that time of year again where the cold bug likes to rear its ugly head as the temperatures drop outside. In our house, it is inevitable that one of us is going to catch a cold during winter months. I don't want that to deter us from having an amazing and memorable holiday season. That is why I assure that I have plenty of Pfizer Pediatric Products on hand.
Kids are back in school and that means I need to have a well-stocked medicine cabinet, as you never know when those cold symptoms will show up. Having medicines like Children's Dimetapp, Robitussin and Children's Advil are just one small way I can let my kids know how much I care.
When sick gets real, these products from Pfizer Consumer Healthcare are there with us to get us through those miserable days and nights of not feeling good. Let me give you a bit of information about each product and why they work well for kids of various ages.
Children's Advil® Suspension
For symptoms from the flu and colds like aches, pains (headaches) or even tooth aches, Children's Advil® Suspension
helps reduce a child's fever fast. It is great for kids age 2-11 and comes in several great-tasting flavors kids will like, including: Sugar-free Dye-free Berry, Bubble Gum, Grape, Blue Raspberry, Fruit and Dye-Free White Grape flavors.
Children's Robitussin® DM Day/Night Pack
At times, the flu is around for more than just a few hours. It can go into overnight and even the next day. To help with those overnight hours when kids need to rest, Robitussin Day & Night Value Pack helps.
Formulated just for kids, Children's Robitussin® DM Day/Night Pack (Children's Robitussin® Cough & Chest Congestion
for ages 4+ and Children's Robitussin® Nighttime Cough
for ages 6+) non-drowsy daytime formula helps break up chest congestion, while the long-acting nighttime formula relieves coughs and runny noses to help kids get the rest they need. The nighttime formula is for kids over 6 years old.
Children's Dimetapp® Cold & Cough
For those times, when they are feeling bad and need something to help with a stuffy nose and wicked cough, Children's Dimetapp® Cold & Cough
helps tackle a child's most bothersome symptoms. Children's Dimetapp® Cold & Cough is for kids ages 6+ and comes is a delightful grape flavor.
Remember, when it comes to the health of you and your children, it is important to always read and keep the cartons and packaging to refer to any restrictions, warnings and dosing. Always use as directed. When in doubt, always confer with your family physician to assist with any questions or concerns you may have.
We all off those "off days" and sometimes just don't feel well. We like to be silly and laugh as much as we can with our kids, especially when they are little. Keeping Pfizer Pediatric Products on hand is just one way, as a mom, I can do to keep my family as comfortable as possible when germs take over. That way, we can get back to the fun and silly moments and show that cold it won't keep us down.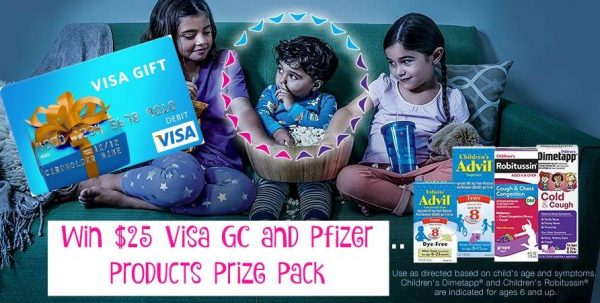 To help you stock up on winter essentials for your family, we are giving away a great Pfizer Pediatric Prize Pack.
Your prize pack will include:
Giveaway is open to U.S. Residents, ages 18+ years of age (limited to one entrant per household).
The giveaway ends on 11/22/17.
Simply follow the Rafflecopter entry form below for your chance to win. Be sure to return tomorrow to complete the daily entries.
Disclosure of Material Connection: I have not received any compensation for writing this post. I have no material connection to the brands, products, or services that I have mentioned. I am disclosing this in accordance with the Federal Trade Commission's 16 CFR, Part 255: "Guides Concerning the Use of Endorsements and Testimonials in Advertising."
Please follow and like us: