Disclosure of Material Connection: I received one or more of the products or services mentioned above for free in the hope that I would mention it on my blog. Regardless, I only recommend products or services I use personally and believe will be good for my readers. I am disclosing this in accordance with the Federal Trade Commission's 16 CFR, Part 255: "Guides Concerning the Use of Endorsements and Testimonials in Advertising."
I love vintage gaming.  Who am I kidding, I love all things gaming.  I have been around gaming all my life from the beginnings of the Pong home system all the way to current systems today.  AtGames brings you the enjoyability of handheld and portable gaming with the Atari Flashback Portable that I had a chance to review here on Tom's Take On Things.
[sc name="affiliate"]
Look up the word gaming geek and I am sure my name is associated with it somehow.  Some of my earliest memories was playing Pitfall on the Atari 2600, or KC Munchkin on the Oddysey 2, maybe even Super Mario Bros. 3 on the Nintendo NES.  No matter what system was out there, we all have favorites from our past.
Let's take a look at the Atari Flashback Portable
from Atgames.  Just imagine carrying a portable Atari 2600
with you everywhere you go!  I can do that with the one I got to review and you can grab one for yourself as well.
A few of my favorite games on it definitely has to be Frogger, Pitfall, Dig Dug, and Kaboom.  Those are just a few of the many games that you can carry with you.  Just a few?  Yep, with the addition of an optional SD Memory Card
, you can have even more Atari 2600 Games with you that you can access from that Memory Card.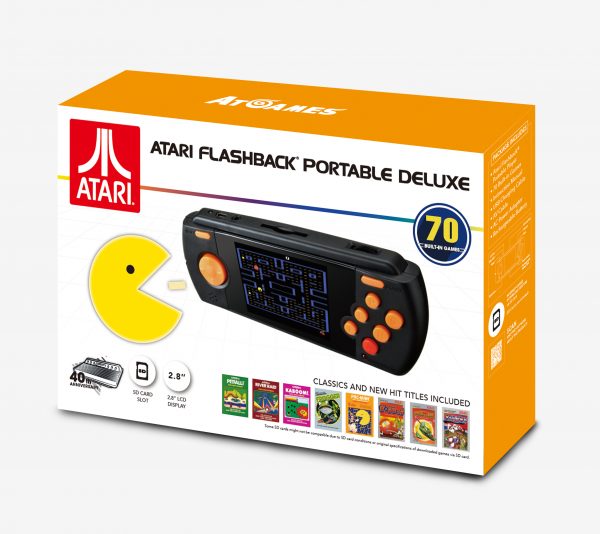 You can also use it to play the games on your Television with an optional AV cable if you have one.   Just like playing them on the TV as a kid.
Now, most kids today have probably never played some of the classics like we did, but why not take time to sit with them and show them what we grew up on?  Show them the blocky version of Pac-man we had to play that looked nothing like the Arcade
version.
Something that I love most about this gadget is being able to take in on Road Trips when I am not driving, or on Vacation when there is some downtime, or just sitting at home wanting to beat my high score on Pitfall.
This would make an excellent addition to anyone's gifts under the tree, or add it as a stocking stuffer and see the surprised eyes!
On my 2017 Holiday Gift Guide this year, definitely check it out as a gift idea, and click here to see the rest of the items in my guide this year!  ~Tom
Please follow and like us: