With the Sega Genesis Ultimate Portable Game Player in your hands from AtGames you can take with you classics like Sonic the Hedgehog 2, Alien Storm, Mortal Kombat and so much more.
I am a geek.  I say it loud and proud, and you can share that with whoever you want.  I dare you!  Go ahead, share this post!
[bctt tweet="Tom is a gaming geek!  He loves vintage gaming, just check out this review of the Sega Genesis Portable!" username="medictom"]
[sc name="affiliate"]
Whether you love vintage gaming because of the history, or just want to relive certain games of your past, why not have this to take with you
on the go?
While it lists 85 games, only 40 of them are original Sega Genesis Games.  While the other games might be a good distraction for children, die-hards like me would wish they were all original games.
List:
Alex Kidd in the Enchanted Castle
Alien Storm
Altered Beast
Arrow Flash
Bonanza Bros.
Chakan: The Forever Man
Columns
Columns III
Comix Zone
Crack Down
Decap Attack
Dr. Robotnik's Mean Bean Machine
Ecco
Ecco Jr
ESWAT: City Under Seige
Fatal Labyrinth
Flicky
Gain Ground
Golden Axe
Golden Axe II
Golden Axe III
Jewel Master
Kid Chameleon
Mortal Kombat I
Mortal Kombat II
Mortal Kombat III
Ristar
Shadow Dancer: The Secret of Shinobi
Shinobi III: Return of the Ninja Master
StreetsOfRage 1
StreetsOfRage 2
StreetsOfRage 3
Sonic & Knuckles
Sonic Spinball
Sonic the Hedgehog
Sonic the Hedgehog II
The Ooze
Vectorman
Vectorman II
Virtua Fighter II
It retains the 6-button set-up of the vintage controller so that you have the same play you remember when you tried it the first time.
With the ability to play more games if you have an optional SD card
that you can load Sega Genesis games onto you can increase your gaming library by quite a bit.
Downsides?  The sound quality could be better.  I am not saying that it totally detracts from the playability of the games, but it would be nice to have a clearer sound.
Upsides?  It's portable
.  The Sega Genesis is part of vintage gaming history.  Did I mention it's portable?  I love gadgets like this that can make waiting to see the doctor pass a little easier, or when you have downtime on vacation in the room, or just if you are out to beat your last high score on your favorite game.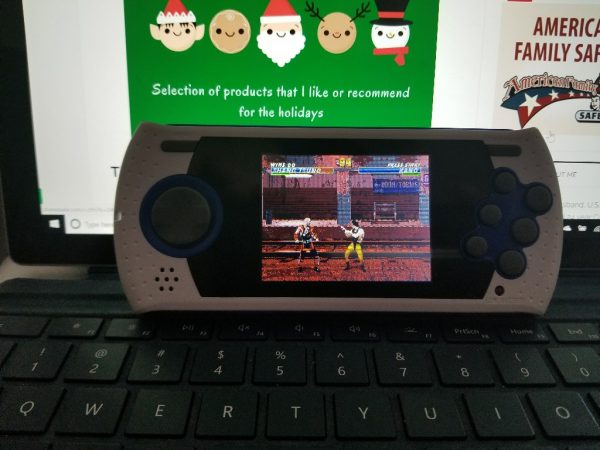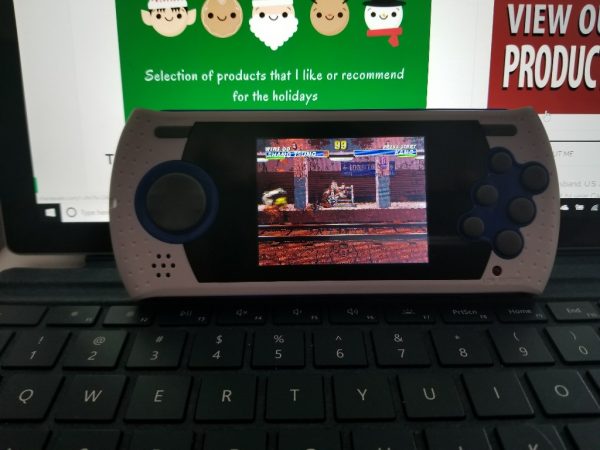 [bctt tweet="Do you want to play Sega Genesis Games on the go? Check out this review Tom did! " username="medictom"]
This would make a great stocking stuffer
!  Or just wrap it and put it under the tree, grab one here
today from Amazon.   Or be greedy, get one for yourself, I know I would.  ~Tom
Disclosure of Material Connection: I received one or more of the products or services mentioned above for free in the hope that I would mention it on my blog. Regardless, I only recommend products or services I use personally and believe will be good for my readers. I am disclosing this in accordance with the Federal Trade Commission's 16 CFR, Part 255: "Guides Concerning the Use of Endorsements and Testimonials in Advertising."
Please follow and like us: