MYNT ES Tracker
Pros
Works with Google Assistant
The MYNT app keeps a record of the last GPS location the MYNT ES was located
Find your car
Up to a 1 year battery life
Easy to set up!
Find your phone when you press the button on the MYNT ES
Cons
Hard to hear alarm at times
Seems a little fragile
Have you said the phrase "Now where the heck did I put my keys?" way too often?  I know I have, and let's be honest, most of us have done the same.  With this Mynt ES Tracker, you can always use your smartphone or tablet to find what it is you are looking for in no time flat.
Now I have tried yelling out to my Lego Hotdog Guy to tell me where my keys are, but he is very stubborn and refuses to help.  So what option is there?  Head on over to my smartphone and let the MYNT ES app help me locate them.
Once the app is installed which was extremely easy to do, setting up the app was a breeze and syncing it with your tracker only takes a couple of minutes.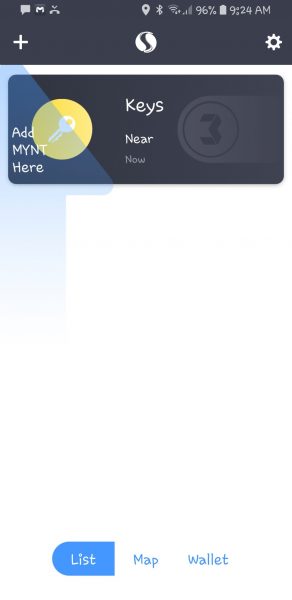 As you can see in the screenshot above, I have attached the MYNT ES Tracker to my keyring.  They have different preset names for most common places you would use it like your wallet, car, and more.  You can also just make a name for whatever you decide to attach it to.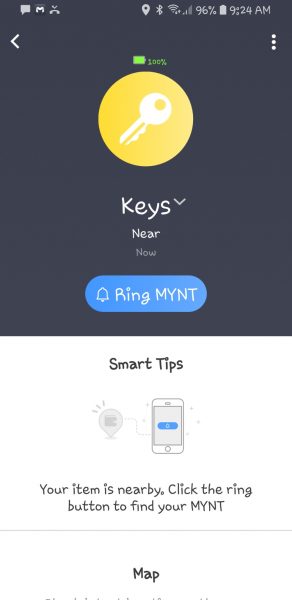 When you press the Ring Mynt button on your smartphone it will initiate an audible alarm on your tracker to help you locate what it is you are searching for.  After you initiate this, there will be a Found It button to press when you do find it.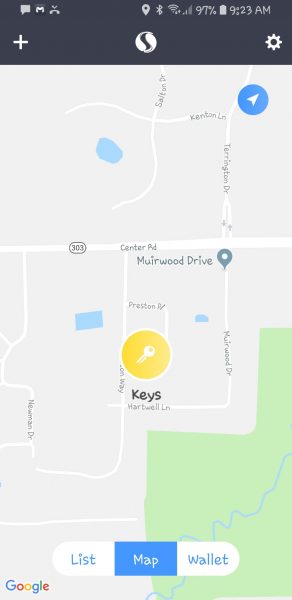 Using the Map feature, you will find a general area that the item you need tracked might be.  This is a pretty good feature considering that you might have left something somewhere you were recently at.
There have been mixed reviews on Amazon about the product.  I have read some of them and while I see where some of them might come from, I feel that this works as intended for a price that you can afford.  At only $15 a unit, and you save as you buy in bulk packs, I find that this would be great to get for the whole family and attach to different devices like the ones below.
Your Car
Key Ring
Phone
Laptop
Tablet
Kid's Backpack
Pet's Collar
And many more!
I think this gadget is great for the purpose of why it was created.  I think it should be considered for your needs, and it would make great gift ideas as well.
You should check them out on Facebook at Twitter as well.  They are always posting fun stuff to stay informed with.  So definitely check them out, consider buying a few for yourself or some friends or family, and share this with everyone you know.  There are share buttons above and below.  Thanks for being here at Tom's Take On Things. ~Tom
Disclosure of Material Connection: I received one or more of the products or services mentioned above for free in the hope that I would mention it on my blog. Regardless, I only recommend products or services I use personally and believe will be good for my readers. I am disclosing this in accordance with the Federal Trade Commission's 16 CFR, Part 255: "Guides Concerning the Use of Endorsements and Testimonials in Advertising."
Please follow and like us: