Thermacell Radius Mosquito Repellent
Pros
Easy to use
Portability (Take it anywhere)
Rechargeable USB Battery
Up to 6+ hours of use on one charge
Two Refill sizes available
Cons
Currently not available in California
Proprietary Refill Cartridges may add up in cost over time
It's a perfect day outside.  All your family has gathered and you are grilling outside.  The side dishes are all set up.  Burgers are cooking and buns are getting toasted.  Sounds like a perfect setting doesn't it?  Except for one thing, the dreaded mosquito.  They have arrived and ruined the day.
Why let them?  With the Radius Zone Mosquito Repellent from Thermacell, your day doesn't have to be ruined.  I am a mosquito magnet and I am always getting stung.  I usually have multiple bites anywhere I go.  I have tried creams, sprays, and even a supplement once that was supposed to help.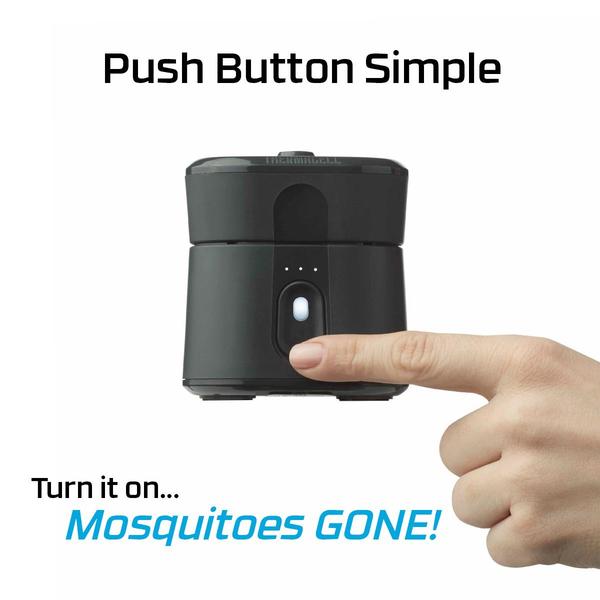 When I was contacted to review this I thought let's see what this little gadget can do.  I did receive a unit for free for the purpose of this review.  All opinions are mine and I only test or promote products I would personally use.
This little gadget has a 110 Square Feet protection range and trust me, I need every bit of that to help keep them off of me.  It's scent free and you don't have to worry about any messy and sticky sprays.
It is easy to set up.  Out of the box, it has enough power to get started.  I do recommend charging it first with the provided USB cord to take advantage of the use of it for as long as it can run.  It can operate for up to 6+ hours on a single charge and you can still use it while it's charging.  Never be without protection again.
It comes with a refill cartridge ready to go.  Just pop the top off of the Radius unit and insert the refill cartridge as directed.  Place the cap back on, turn on the device and you are ready to go.  There is a convenient on/off slide button on the bottom of the device to ensure your device is off.  You just have to put it in the on position to start using it again.
I decided to test mine where I spend most of my time.  Sitting outside in my favorite chair next to my running fountain.  The sound and tranquility I get from this are so worth it except when there is that pesky mosquito out there ready to ruin it for me.  I noticed that it decreased the number of flying pests while I was out there.  I will be doing more tests with it as we go along and updating this review as needed.
I never get to enjoy the sounds of my fountain as much as I would like to.  With the Thermacell Radius, I feel that will begin to change.  What is amazing about this little gadget is that I can take it anywhere.
Take it with you:
Picnic at the Park
Going to watch Fireworks
Down at the Beach
Outside in the Backyard
Family Gatherings
Outdoor Concert
I highly believe this is something everyone should have for when they don't want that pesky mosquito to ruin their day.  So grab yourself one here on Amazon and see what it can do for you.
So do you have a mosquito problem where you are?  Do you hate getting bit all the time?  Where do you think you would use this the most?  Let me know your thoughts below and be sure to share this with others that might need something like this. ~Tom
Disclosure of Material Connection: I received one or more of the products or services mentioned above for free in the hope that I would mention it on my blog. Regardless, I only recommend products or services I use personally and believe will be good for my readers. I am disclosing this in accordance with the Federal Trade Commission's 16 CFR, Part 255: "Guides Concerning the Use of Endorsements and Testimonials in Advertising."
Please follow and like us: