Sometimes you try a new restaurant and think to yourself, why did I try this place? That is not the case with Mission BBQ that we went to in Parma, Ohio.

We drove about a 1/2 hour to try this place from Brunswick, Ohio. We are so glad that we did.
Disclosure:
I was not paid or compensated for this post. No free food was given for my opinion. This review is solely a result of us visiting Mission BBQ and wanting to share our experience and why we will be going back.

Note: I would love to become an ambassador for Mission BBQ here on my blog Help me do that by commenting on this review and sharing it on social media. Thanks. ~Tom
[mappress mapid="14″]
Mission BBQ was more than just a place to eat for me. It was an experience. It was something that I enjoyed and am looking forward to soon in experiencing again.

What makes it an experience? It was a combination of the food, the atmosphere, and the staff.
The Food
Whether you are tasting for Brisket, Pork, Ribs, Turkey, or Chicken. Mission BBQ has the variety that you are craving. You can choose to make it a sandwich or just get the meat on a tray. Making it a combo is easy, and they have a few sides that all can enjoy.

I got fresh cut fries with mine. I love fresh cut fries. The only complaint I would have about the experience is that they seemed a little dark and overcooked. I like my fries on the lighter golden brown side of things.

I got the brisket. They ask you if you want it lean or not. I chose to get it lean being the first time I had it. The brisket had an amazing flavor. You can taste the smoke from the bbq and it goes through the entire brisket. Next time I think I am going to get it the normal way as I think the fat would make it less dry than mine was. The meal also came with a piece of cornbread. When we ordered, I asked if it had real corn in it. It doesn't and I am glad for that. I don't like actual corn in my cornbread. Just my preference.

I also bought the "The Hometown Heroes Cup" as the cup for my drink. You can bring it back and refills are only .99 cents. $2 goes to local military and first responder agencies to benefit those who need assistance the most to do their jobs better.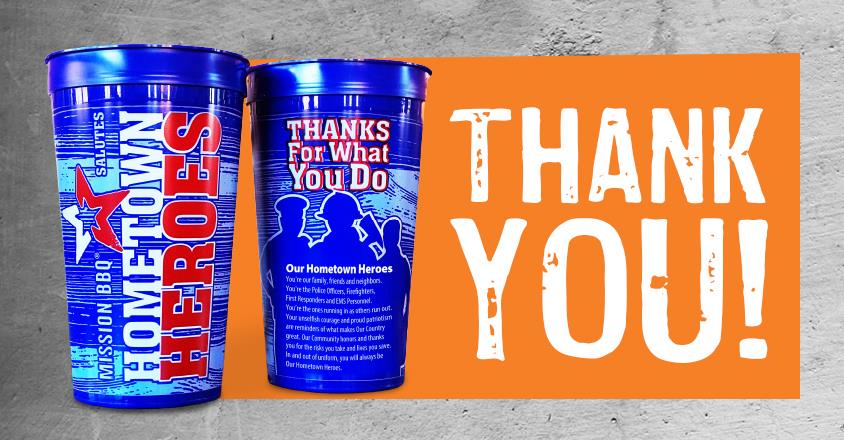 The Hometown Heroes Cup
$2 will be donated to support the meaningful
work of nonprofit organizations in Our Community
and Our Country
The Atmosphere
While it is a place for everyone to enjoy a fantastic meal at. Mission BBQ is a destination for someone like me in mind.

You can read about Mission BBQ's story here. When you see the outside of the building the first thing you see is a prominent United States Flag furling in the sky.
Let's talk about the inside of Mission BBQ. I am assuming it follows the same guidelines as all the other locations. When you walk in you can see a United States Flag hanging from the ceiling along with the POW/MIA Flag as well.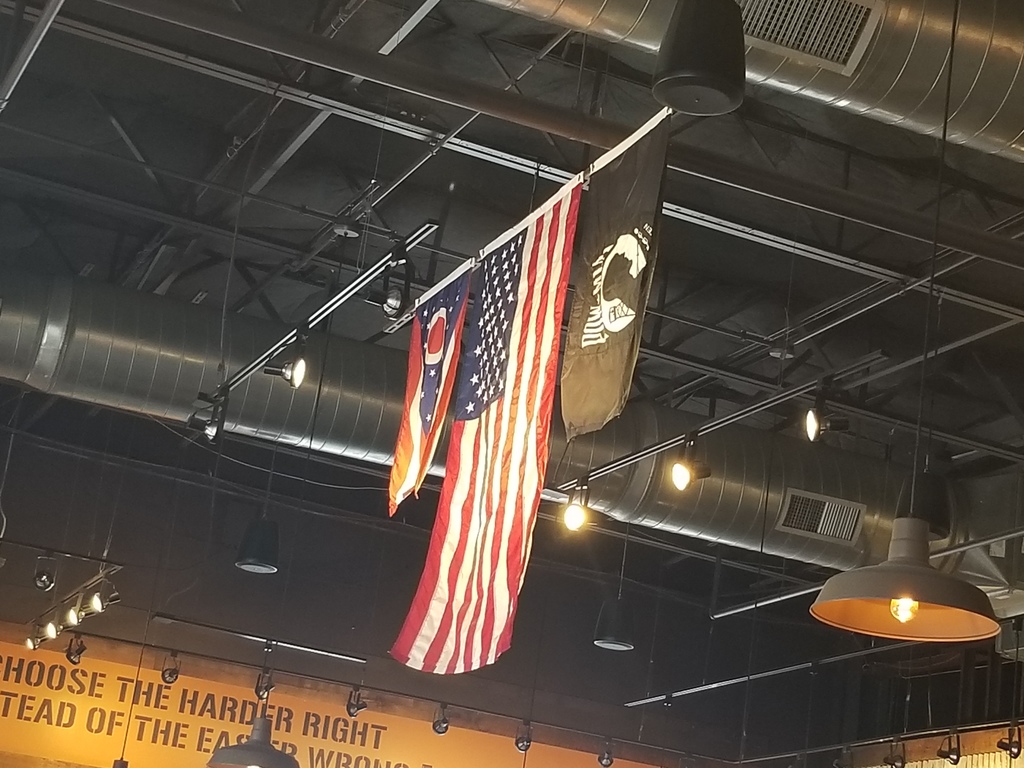 In addition to the above, all the walls are adorned with patches, pictures, uniforms, and more of the Military and First Responders like EMT's, Paramedics, Fire Fighters, Police, and others.
Cleveland EMS Patch
I used to work there!

I worked as an EMT and Paramedic at St. Vincent Charity Hospital

Brunswick Hills Police
Where we live!
I am a veteran of the U.S. Army myself, served in Desert Storm and a former 24-year EMT and Paramedic with various hospitals and services in the Northeast Ohio area. I worked for Cleveland EMS (still miss it every day) for 5 years and found our patch hanging on the wall as well. In the entrance, we found our city of Brunswick Hills patch too.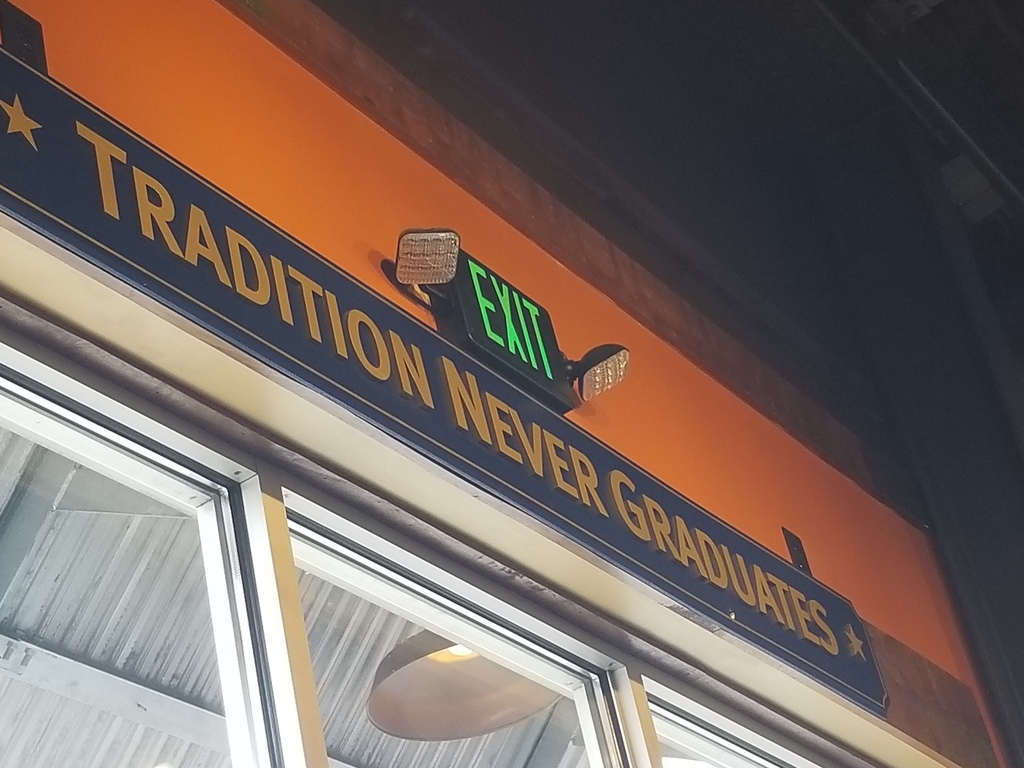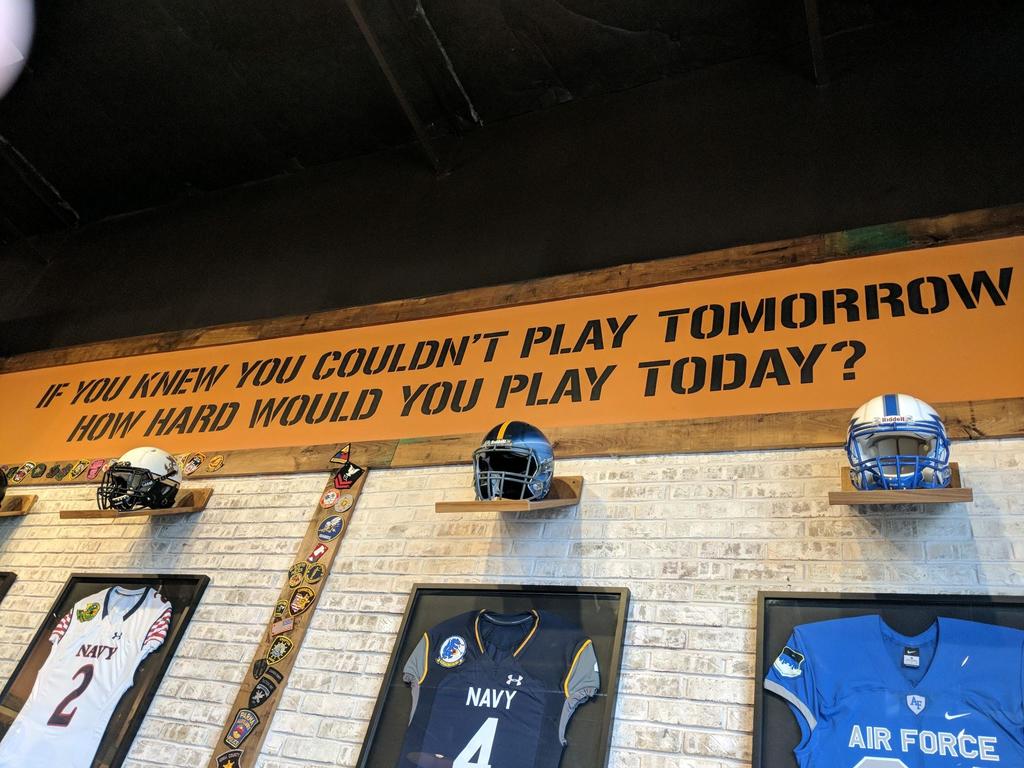 The Staff
How do you complete a trifecta for a good place to have a meal? That's right. The Staff. From the moment I walked in I felt like I mattered there. I felt like I was important, and everyone was more than accommodating to my questions. From the cashier to the people prepping the food, and even the person taking care of the dining room everyone was more than helpful and courteous.
Summary of Mission BBQ
In the mortal words of Arnold Schwarzenegger. "I will be back!". When we visited did you know at noon that they play "Stars and Stripes"? The staff stops take off their hats or visors and everyone stood as we heard them play our national anthem. It really sent goosebumps through my body and I know that might sound silly, but it is rare these days that a business who supports the military and heroes, it's first responders, and it's customers exists. The food was excellent, the staff was great, the atmosphere brought me such joy. How can I not go back?
I can't wait to go back soon, hoping the fries are a little less over cooked, but other than that, more than looking forward to the return.
Disclosure of Material Connection: I have not received any compensation for writing this post. I have no material connection to the brands, products, or services that I have mentioned. I am disclosing this in accordance with the Federal Trade Commission's 16 CFR, Part 255: "Guides Concerning the Use of Endorsements and Testimonials in Advertising."
Please follow and like us: