I am 50 years old. I still play video games today. Why? I think the majority of the reason is that they still make me feel like a kid. The Atari 2600 was early in my video game memories and produced some of the most fun I ever had on a system.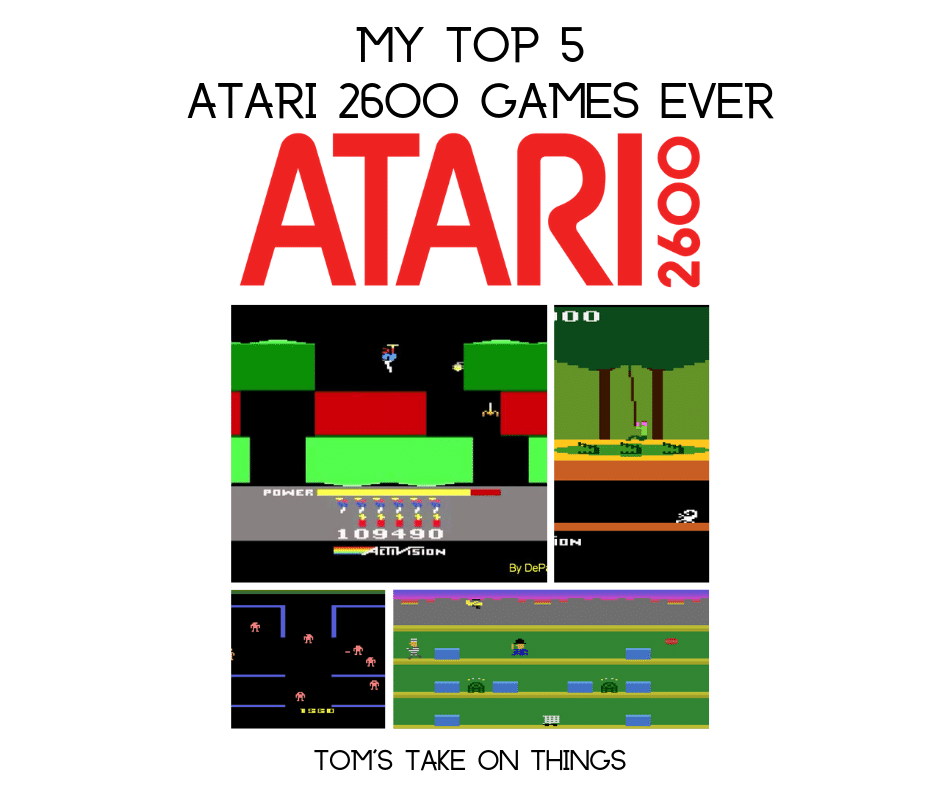 Affiliate Links
Some links in this post may be affiliate links. I may earn a small percentage if you buy something using those links. ~Tom
There are a few ways you can play classic Atari 2600 games today.
On the Original Atari 2600 where you can usually find on buy/sell boards on Facebook, Flea Markets, and places like eBay.
With systems like the Hyperkin Retron 77 Atari 2600 HD Gaming Console which are console recreations to play actual carts like the one below: (or find it on Amazon here)

Or using emulators that you can use on other systems like computers or other handhelds that have been hacked.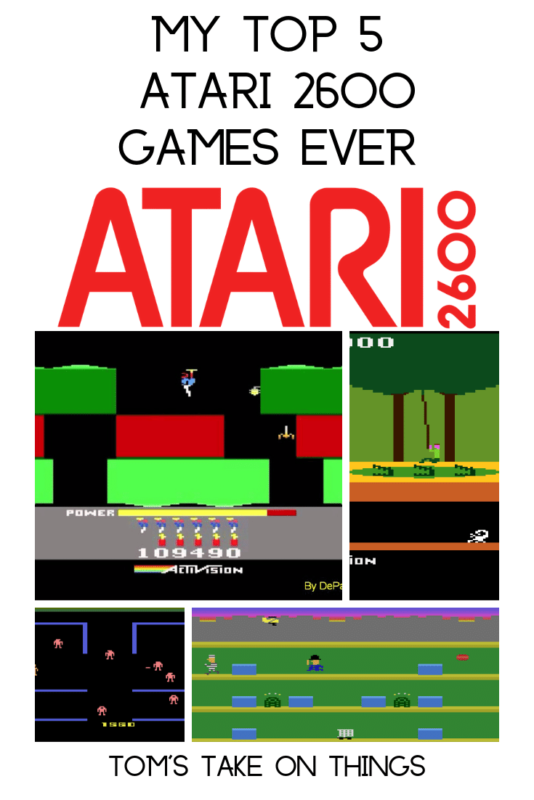 My Top 5 Atari 2600 Games Ever
5. H.E.R.O.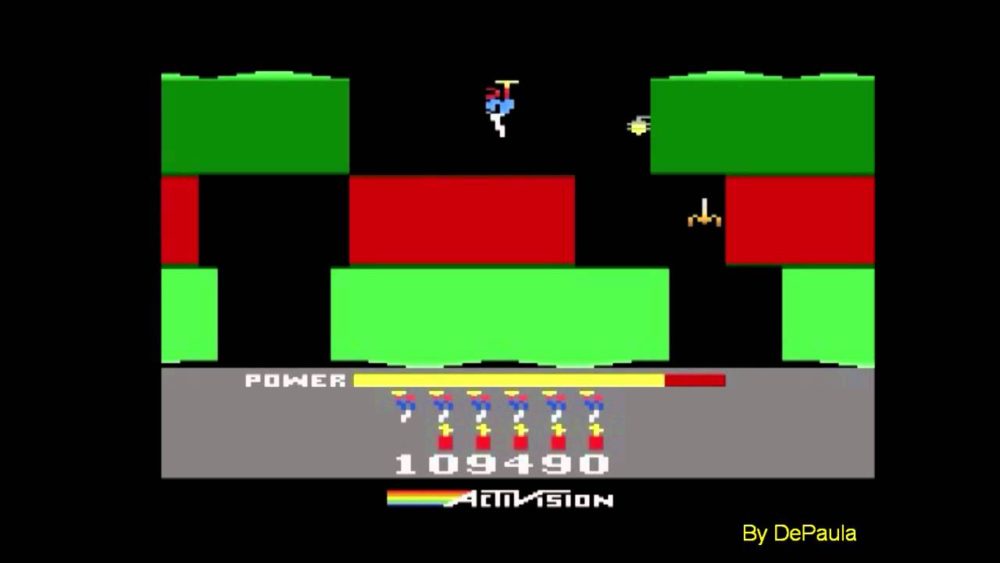 H.E.R.O. stands for Helicopter Emergency Rescue Operation and to this day is still one of my absolute favorite games to play.
As a former 24-year Paramedic who has saved so many lives over my lifetime, this game brings back even more sentiment for the fact that you are trying to be a Hero and save as many people as you can.
[embedyt] https://www.youtube.com/watch?v=G3cL-PFXf4c[/embedyt]
If you are like me and want to find this cartridge again to add to your collection just check eBay here and grab yours today. They are becoming a little harder to find and I miss not having a copy of my own.
4. Keystone Kapers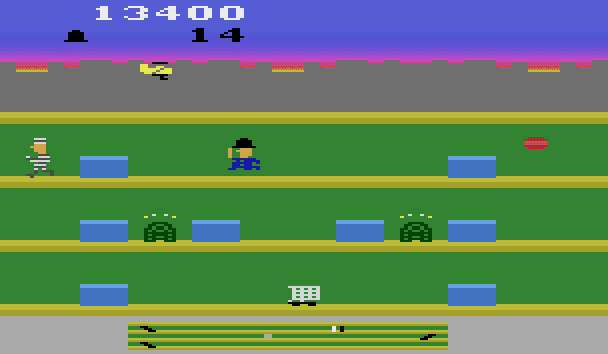 Keystone Kapers is simply just fun to play. You have to catch a criminal who is evading you while running through a store. The graphics translate well to the Atari 2600 and the criminal is even wearing stripes and the cop is carrying a billy club.
The levels get harder as you run through each one. Is it better to use the escalator or the elevator? With things whizzing towards you like shopping carts, bouncing balls, and model airplanes it just becomes increasingly difficult to keep catching him. But can you? Grab yours here on eBay as well.
3. Berzerk
Intruder Alert! Intruder Alert! Talk about an addictive game to play this one never was not part of my play time and still is active in my top 5 Atari 2600 games to play even now.
You are on a mission to take out robots first before they kill you. In the first couple of rounds when they are yellow they don't shoot back. Once you get to orange and beyond they start moving faster and shooting back.. You can't run into the walls and you have to outrun the evil otto that will bounce towards you if you take too long or kill all the robots. Make sure you are near an exit if you can! I made it to the green robots a few times. They shoot VERY fast and move quickly. I am not a master of this game in any way, but I do enjoy playing it. Grab it on eBay or Amazon today!
2. Pitfall!
Pitfall Harry was on a mission to collect as much treasure as he could in under 20 minutes. What's stopping him? Well. We have rolling logs, fires, scorpions, alligators, and opening pits that would have dire results.
The Atari 2600 was pushed to some of its limits with this game that had addictive gameplay and wonderful replay value trying to find ways to collect as much as you could in the fastest time possible. Grab it on eBay today!
1. Pitfall II: Lost Caverns
Here it is! My all-time favorite game for the Atari 2600 and to be honest probably one of my top 10 games from all systems combined.
Pitfall 2 (find it on eBay) brought me so many HOURS of frustration. It was a fun amount though. While this version is great for this system, my absolute favorite version of this game is for the Atari 5200. That article is coming soon.
Instead of just the upper and lower level of the original Pitfall! this had 27 layered levels that required jumping, swimming, and using balloons to transverse the many levels of the game. While the game wouldn't save your progress if you turned it off, during the time you played while it was on if you made it to a save point if you died that is where you went to instead of having to start completely over.
This game brought so many challenges, but the reward was worth it when you solved it at the end.
Summary
I can easily list another 5-8 games that were constantly on my list of ones to play. Sticking to the purpose of this article, these are my top 5 Atari 2600 games ever.
What was your favorite Atari 2600 games?
Do you still have an Atari 2600 system?
Have you played it through emulation?
Share your thoughts below with me and leave a comment. If you want to stay tuned to more be sure to subscribe to my blog below. ~Tom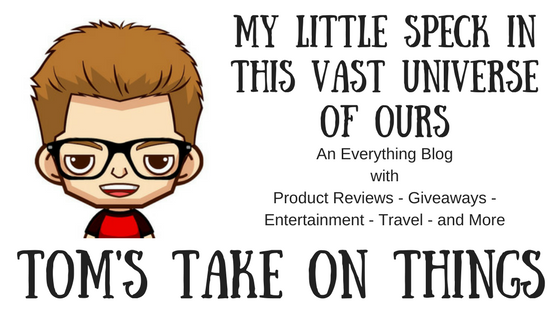 [jetpack_subscription_form show_only_email_and_button="true" custom_background_button_color="undefined" custom_text_button_color="undefined" submit_button_text="Subscribe" submit_button_classes="undefined" show_subscribers_total="false" ]
Disclosure of Material Connection: Some of the links in the post above are "affiliate links." This means if you click on the link and purchase the item, I will receive an affiliate commission. Regardless, I only recommend products or services I use personally and believe will add value to my readers. I am disclosing this in accordance with the Federal Trade Commission's 16 CFR, Part 255: "Guides Concerning the Use of Endorsements and Testimonials in Advertising."
Please follow and like us: