Disclosure of Material Connection: I have not received any compensation for writing this post. I have no material connection to the brands, products, or services that I have mentioned. I am disclosing this in accordance with the Federal Trade Commission's 16 CFR, Part 255: "Guides Concerning the Use of Endorsements and Testimonials in Advertising."
Maintaining a normal blood pressure is essential for the human body to keep running at its peak performance. Whether your blood pressure is normal already, or you are under the care of a doctor to maintain a proper level, monitoring your vitals when you are in between visits can be made easier with the help of this device.
The iHealth Wireless Blood Pressure Monitor which I had a chance to review from Verizon Wireless, not only helps you determine that number, but keeps track of it, and creates reports and graphs based on the data that is saved.  Maybe, on Wednesday's you find that your blood pressure is higher because of something that happens at work, by being able to see these trends, you should be able to help figure out what might be causing the spikes and fixing the problems if you can.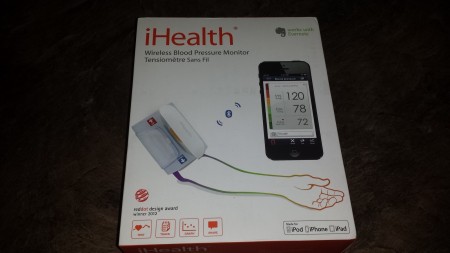 Designed to work with your smart phone or IOS device, it is easily geared towards iPods, iPhones, and iPads.  It was extremely easy to set up, I turned on the device attached to the cuff then turned on my iPad 2 and found my Bluetooth connection under settings.  It recognized the iHealth Blood Pressure Device right away, and I selected it to pair up, it did that quickly and then in a pop up on my iPad 2 it asked me if I wanted to download the software to work with the iHealth BP Cuff.  Once installed, you can press the test button if you wish to get a quick test, or you can set up your information in the app to log your name, weight, and other info if you plan track your results.
The software is designed to use with multiple people , as you would just have to select who is using it when you start the app from your iOS device.  The design of the cuff is easy enough for one person to use and put on their arm, and with the press of the test button it told the wireless Blood Pressure cuff to start.  One safety feature I loved about it was that with the swipe of the stop button on the iOS app, you can tell it to stop squeezing.
I was pleasantly surprised how easy this was to use, and coming from a 20+ year EMT/Paramedic, anyone would benefit from this as it would be easy to show them how to use it, whether it is stored on their iOS device, or that of a family member.
Pros:  Easy to set up out of the box, Lightweight, Great tracking software, Bluetooth Wireless, and can be used on several iOS devices  Cons:  Cuff may not fit larger arms, and you will have to use wrist area to take blood pressure.  At $99.95 I think it is a good buy for those who want an easy process to track their blood pressure and pulse readings.
Please follow and like us: