While I was attending the Dad 2.0 Summit in San Fransisco in February, I had the chance to meet a great set of people that worked at SmartyPants Vitamins, and was not only able to try the product there, but talk to them about what they had in mind for the future.
I was able to keep in contact with them, and was able to arrange a review of their product for adults, and I wanted to share with you some things you should know about them, and the vitamins they make.
First of all, I love the name "SmartyPants".  I think it is a creative way to get across their brand name, yet deliver a quality product.  So what is part of their mission? well for one, for every bottle you buy, they help supply vitamins and assistance to vitamin angels for children in need.  Each sale also helps support Charity:  Water, helping bring clean water to those in need as well.
As you can see below, each serving of adult gummy vitamins from SmartyPants gives you the following benefits: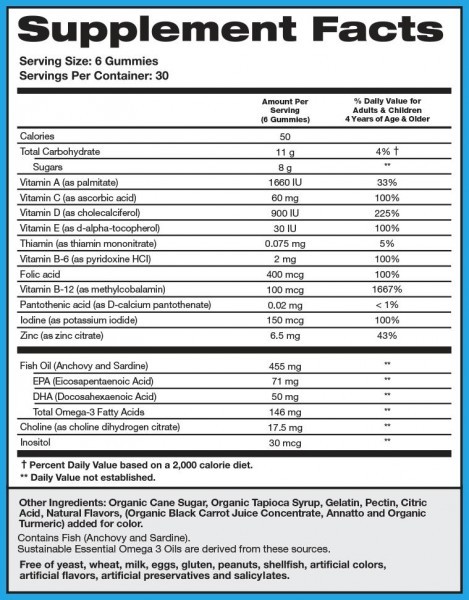 What can you expect from all of this?
All the benefits, without any gluten, wheat and dairy.  Their products also contain no yeast, wheat, milk, eggs, gluten, salt, peanuts, tree nuts, shellfish, artificial colors, artificial flavors, salicylates, or preservatives.  They have a natural taste to them, making them easy to take, and no big pills to follow either.  Each set of gummy drops makes it easy for young to old to take these.
It comes two different ways, in bottles for everyday use, and in convenient travel sized pouches, for when you are on business trips or vacation.  Either way you decide to take them, you are going to get all the nutrients you are looking for and more.
I really think I found my new daily supplement to take.  So much easier to take, with an all-in-one formula, which gets rid of the need for multiple bottles of products, that might not contain what you need in one serving of SmartyPants to start with.
So what is the hardest part for you to take vitamins and supplements?  is it the amount you have to take?  all the different varieties to meet your needs?  Share your thoughts below.  ~Tom
Disclosure of Material Connection: I received one or more of the products or services mentioned above for free in the hope that I would mention it on my blog. Regardless, I only recommend products or services I use personally and believe will be good for my readers. I am disclosing this in accordance with the Federal Trade Commission's 16 CFR, Part 255: "Guides Concerning the Use of Endorsements and Testimonials in Advertising."
Please follow and like us: