Disclosure of Material Connection: I received one or more of the products or services mentioned above for free in the hope that I would mention it on my blog. Regardless, I only recommend products or services I use personally and believe will be good for my readers. I am disclosing this in accordance with the Federal Trade Commission's 16 CFR, Part 255: "Guides Concerning the Use of Endorsements and Testimonials in Advertising."
I finally have an opportunity to own a pair of Lugz Boots.  What was the problem up til now?  Not having the right size, believe it or not.  I have size 15 feet.  So let me assure you, that it is hard to find quality footwear that is not only stylish, but comfortable and protects me year round.

So when I saw that Lugz had two of their product lines in size 15, I jumped aboard, and can proudly share what I have found, felt, and seen while trying these out.
I was worried at first that they wouldn't fit, since I have wide feet on top of them being big.  After getting all the laces set, and trying the shoes on for the very first time, I was pleasantly surprised how roomy they were.  I have had problems in the past with other brands not fitting well, or being too tight, or even don't seem long enough for the size they are advertising.
Let's talk about some of the features of these ankle high Lugz boots I had a chance to review:
 The top of the boot has a water resistant and scuff proof permahide that was pretty resilient to the normal walking in dusty parking lots and wet puddles.
 They have a cushioned insoles and memory foam flexastride sockliner.  I normally put glycerin based shoe inserts into all my footwear to help reduce foot pain, these have it built right in.
 Mark II tested slip resistant rubber sole, to help you keep your footing on the most nasty of weather days, or situations where normal shoes would cause you to fall.
So how did these men's boots hold up?  Pretty well.  Again, they were roomier than I thought they were going to be.  They were comfortable to put on, and I did not have to struggle to get these big feet into them.  It took a little bit of time getting used to the built in memory foam in the insoles, but once I did, the ankle boots became increasingly easier to wear.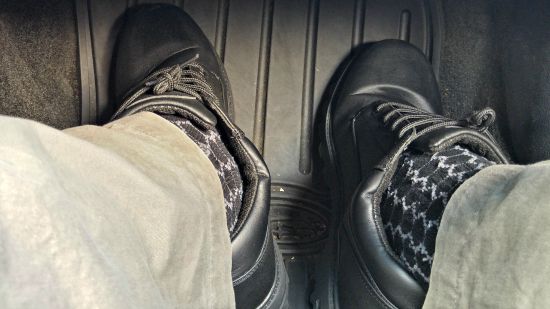 As you can see by some of the pictures I have shared, you could easily wear these casually with dockers or jeans, maybe even formally if you have trouble finding shoes like I do, and obviously, these would make a great pair of footwear to use for work.
Want to know how you can get your own pair?  You can grab them from the company's website here, or if you would like to grab them on Amazon, click here, and use any gift cards you might have saved up.  These would make an excellent gift idea as well, and come in sizes from 6.5 to 11.5 in half sizes, and in 12, 13, 14, and 15 as well.
I will be giving a pair of these away to one lucky winner starting tomorrow here on A Medic's World.  Ten other bloggers are going to help me promote this giveaway, and one of you will have a chance to win some of these for yourself.  So what brand do you currently wear? Have you ever owned a pair of Lugz Boots or Shoes?
Please follow and like us: