I simply love the show, The Walking Dead. I will be honest, I missed the first season of it completely actually.  I only started watching it, and getting it caught up after more and more people started talking about it.  The ZPAK from First My Family allows you to have a compact kit with some necessary items to have in an emergency.
I have had an opportunity to review the 4-Person Emergency Preparedness Kit from them, as well as the Official The Walking Dead Emergency Kit as well.
This water bottle comes on a carabiner for easy transport to hang on a backpack or your belt loop, and has some basic emergency supplies in it that might be useful in a tragedy, or if it was to ever happen, that Zombie Apocalypse.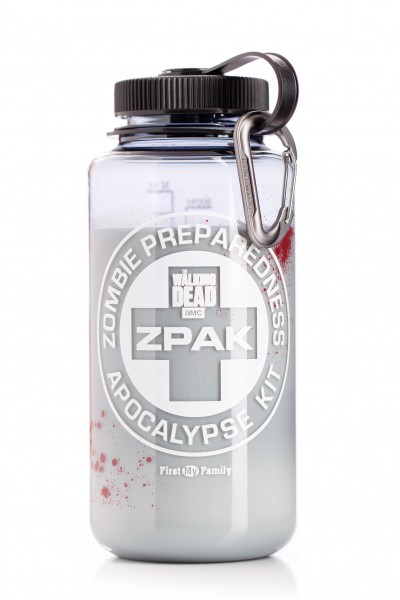 ZPAK Contains:
(1) 32oz Custom Nalgene BPA Free Wide Mouth Sport water bottle. Made in the U.S.A.
(1) Custom Carabineer – Not designed for professional climbing
(1) 5-1 Emergency Whistle with Compass, Flint, Signal Mirror and Carrying Case
(1) Emergency Mylar Space Blanket to keep you warm during harsh conditions
(1) Emergency Poncho to keep you dry
(1) 12-Hour Glow Stick to light up the darkness
(10) Medical Grade bandages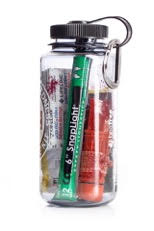 This item is the type of thing that would be perfect for any vehicle, or emergency kit at home.  The whistle has a screw off cap that has the mirror in the head of it, and would also hold some waterproof matches if you were to put those in there.  With the whistle, always be able to do something to alert others that you need help as well.
It has the official AMC The Walking Dead Logo on it as well, making it a great gift idea for anyone who likes the show.  For me, this is a great idea for any one who likes to be prepared for the worst, or that person who might have a little of everything, but you are looking for an unique gift idea for them.
I think everyone should have something in case there is an emergency, a natural disaster, or a catastrophic event so that you can not only protect yourself, but those that you love around you.
Life always gives us challenges that might test our limits, but with products like this one, I know that I am much more prepared, and love having it, in case I was ever in need of using it.
First My Family is allowing me to give 2 of these away, so look for the giveaway here.
So what do you have in case of an emergency?  Share what you have below! ~Tom
Disclosure of Material Connection: I received one or more of the products or services mentioned above for free in the hope that I would mention it on my blog. Regardless, I only recommend products or services I use personally and believe will be good for my readers. I am disclosing this in accordance with the Federal Trade Commission's 16 CFR, Part 255: "Guides Concerning the Use of Endorsements and Testimonials in Advertising."
Please follow and like us: