We all go through life doing our thing.  We wake up in the morning, maybe take a shower, and for those who do, head off to work to help provide for themselves or their family.  Come home, eat some dinner maybe, settle in and read a paper, maybe play a game on the computer, or just enjoy the evening with a glass of wine.
Then life gives us moments to plan vacations or road trips.  We go alone, or plan expansive trips with your family to maybe visit some national parks, or those famous worlds largest attraction places.
When all of that is done, you come back, kids go back to school maybe, you go back to work, and the daily grind begins again.  But what about if something was to happen to you, or your family, and someone was to get sick or hurt while at home, work, school, or while you were on that previously mentioned vacation I talked about?
Did you know that UnitedHealthcare has so many options that can help protect you and your family?  I want to cover some of them with you, so that you have an idea of all the choices you have, and what they can do for you with their programs and tools.
I think one of the coolest tools they have is the MyHealthcare Cost Estimator.  What this does is, once you are a member of UnitedHealthcare you can get an estimate of what something might cost with your plan that you have in place.  What if the doctor told you that you needed a hip or knee replacement?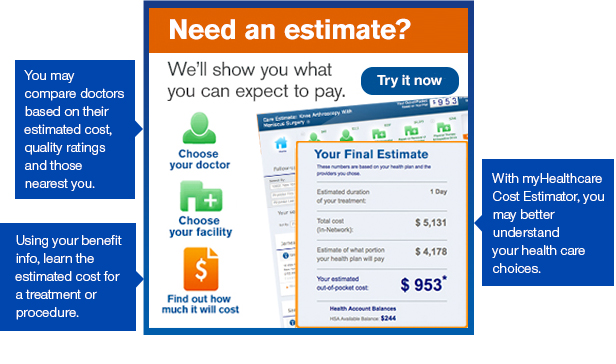 What you would do is search for a condition or treatment whether it might be eyes, itch, x-rays, knee pain, back pain or whatever might be causing you issues.  You type in your zip code, and find a doctor that you want to see to get your final estimate.  This will help you prepare for what is about to happen with your health care.
If you are a member of UnitedHealthcare, or thinking about joining them, you might have questions right now, maybe that question is at 2:12am in the morning, or 8pm in the evening, it doesn't matter when a 24 hour Nurse is available to answer your questions.
Maybe you have a concern about an open cut, or a sore throat.  What about a cough that won't go away, or your little one has a temp of 101 degrees?  Answers from Registered Nurses are only a phone call or a chat online at the UnitedHealthcare website are just a few moments away.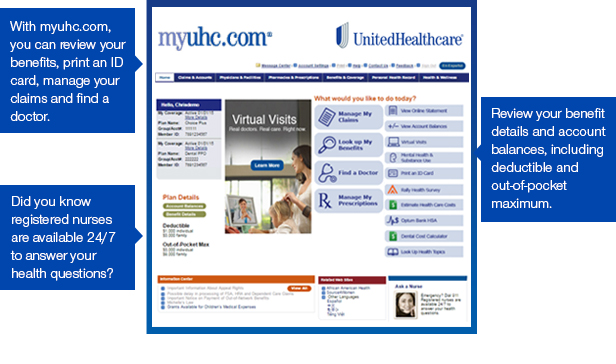 I personally think these are amazing services and they have others as well like the MyClaims Manager, and the Health4Me Mobile App.  If you are a member of UnitedHealthCare I would love to hear your thoughts below, so leave me a comment.  If you are not a member, and are looking for something that will give you a good deal of choices, and information at your fingertips, or a phone call away, then you need to consider UnitedHealthcare as a source for your Health Care needs.
Now I really want you to be aware of all the good things they offer, but how would you like to win a $100 Amazon Gift Card?  I bet you would, check out your chance below. You can enter daily!
You also have a chance to win prizes from fellow bloggers that are sharing news about UnitedHealthcare as well.  Did you know you can win $400 in gift cards from UnitedHealthcare yourself? Click here for info.
Lindsey from Fit and Awesome is giving away a $100 Gift Card as well, and talks about Virtual Visits from UnitedHealthcafe, visit her site here, to go enter and win as well.
Chelsea from Someday Family talks about Right Care in the Right Place, and is also giving away a $100 Gift card that you can go enter here.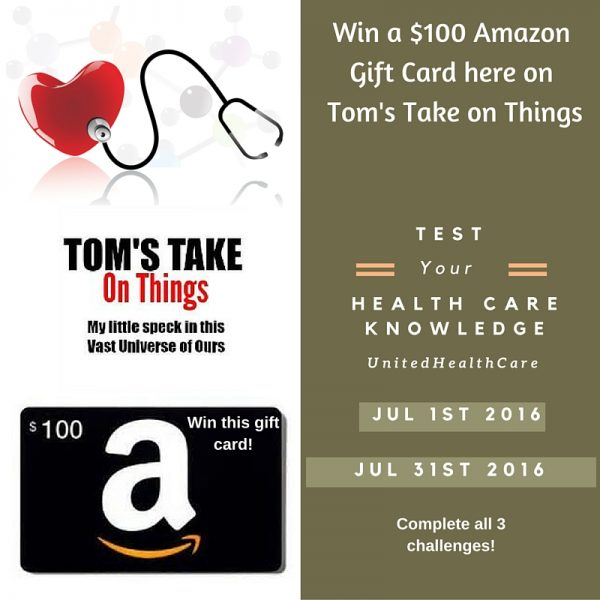 You can enter daily, to try and win! So come back every day in the month, and enter again with the 3 tasks and the daily tweet.
Disclosure of Material Connection: This is a "sponsored post." The company who sponsored it compensated me via a cash payment, gift, or something else of value to write it. Regardless, I only recommend products or services I use personally and believe will be good for my readers. I am disclosing this in accordance with the Federal Trade Commission's 16 CFR, Part 255: "Guides Concerning the Use of Endorsements and Testimonials in Advertising."
Please follow and like us: