JNC318 Jump Starter and Charger
112.00
Pros
12-Volt jump starter perfect for starting 8-cylinder engines or smaller
Preheat mode for jump starting in frigid temperatures
Portable dual USB power bank to charge Electronic devices such as phones, tablets, and more
12 volt output for powering accessories such as tire inflators, power inverters, and more
Built-in Flashlight with SOS feature
Cons
I really can't find one, if I do, I will update review
Let's paint a picture.  You are running errands and doing the Holiday Shopping for all of those people in your life.  You park your car and maybe leave your lights on, or it's just that cold outside that the battery needs a boost.  Everyone is busy on their own, and you need to get your car started.  The JNC318 Jump Starter to the rescue!
[sc name="affiliate"]
This Jump Starter is brought to you by the wonderful people over at Clore Automotive.  You can peruse some of the other reviews I did on their products here and here.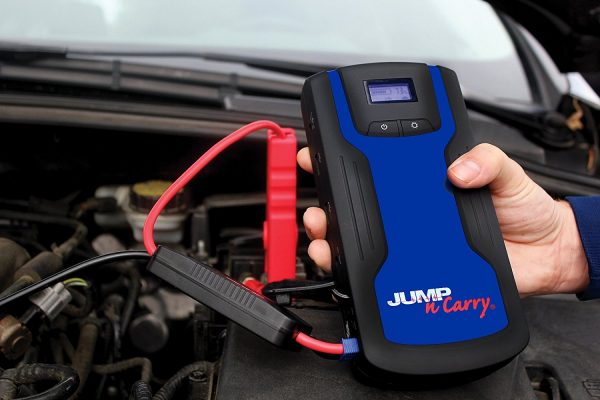 Maybe you are an independent woman and like to be self-sufficient on your own.  Maybe you are a husband and want to protect your wife.  How about the younger drivers in the family?  You want them to be prepared as well, don't you?
I was a Paramedic for 24 years and one thing I have always made sure of was being prepared for almost anything.  We can't control all the circumstances that arrive in our life but wouldn't it be nice to have the peace of mind knowing that you were prepared at the moment you needed to jump-start your battery?
This easy to carry Jump Starter can easily be placed under a car seat, fit in most glove compartments, or in the back of your car or SUV with your other safety products.
This Jump Starter from Clore Automotive does much more.  It can charge devices via USB or even use 12-Volt accessories like tire inflators, power inverters and more.
It has a built-in flashlight and can even flash an SOS code like in the video below.
It has an easy to read digital display to let you know how charged it is, and what function it is currently serving.  With the charge cord that easily plugs into your household outlet, you can keep it continuously ready for when you need it most.
This would be a great idea for those who love emergency preparedness, a loved one, a new driver or a stocking stuffer for anyone you might work with as well.
Two thumbs up from me on getting one, and I am proud to add this to my 2017 Holiday Gift Guide this year.  ~Tom
Please follow and like us: