Life gives us challenges.  Life gives our bodies challenges.  Why not be ready for some of those with SmartyPants Men's Complete?  I have a lot of love for this brand, and came across them while at a blogging event I was attending in San Francisco last year.
I had done a review of their Adult Complete Vitamins as well.   It was nice to find a brand of vitamins, that I was not only happy to take, but support as well, for all the great things they do for those in need.
With the ever changing needs and requirements of busy and active men, they created their SmartyPants Men's Complete to help tackle the best that life can give you.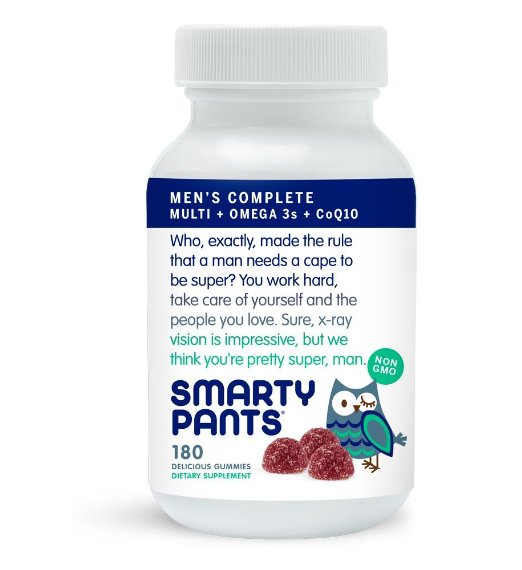 Reason One:
It is designed with men in mind.  With Omega 3 DHA and EPA fish oil for brain health, CoQ10 for heart health, and Lycopene for arterial health and prostate support.  Along with all the basic requirements like Vitamin C, D, B6 and B 12, and so many more.
Reason Two:
Easy to take, and they taste great.  Like the Adult Complete, Smarty Pants Vitamins makes it easy to take these by offering them in easy to chew and really tasty gummies.  I will be honest, I get tired of having to take more than one type of supplement, or the size of them sometimes.  Not the case here, with them being so easy to take, and you get them all in one package of 6 per dose!
Reason Three:
Every purchase made helps children in need with a nutrient grant to Vitamin Angels.  A great organization that gives vitamins to mothers and children under 5 who are at risk of malnutrition. I love when companies give back, and Smarty Pants Vitamins leads the charge.
I am proud to say I am happy with some of the changes I have been making in life, including trying to get the vitamins and supplements that my body needs daily.  This, with trying to eat more healthy, have given me hope I can get the results I need.  And get where I want to be in life.  SmartyPants Men's Complete will help me get there. ~Tom
Grab yours here on Amazon today —> Men's Complete by SmartyPants
Can they help you achieve your goals?  Find out today, let me know what you think.  ~Tom
Disclosure of Material Connection: I received one or more of the products or services mentioned above for free in the hope that I would mention it on my blog. Regardless, I only recommend products or services I use personally and believe will be good for my readers. I am disclosing this in accordance with the Federal Trade Commission's 16 CFR, Part 255: "Guides Concerning the Use of Endorsements and Testimonials in Advertising."
Please follow and like us: